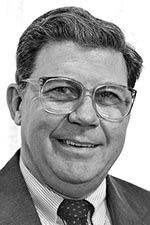 Shuptrine
Calvert H. Shuptrine, a civil engineer who became president and co-owner of a leading construction firm, died Monday near Oscoda, Mich. He was 84.
He drowned while swimming in Lake Huron, his daughter Julie said.
"He would swim every morning when he was at the lake," she said. "It was kind of a morning constitutional."
His wife, Marilyn, died on April 1, and he returned to the family cottage, a log cabin in northeast Lower Michigan where he spent childhood summers.
"His relationship with that lake was so profound. That's the place he wanted to be more than any place on earth," his daughter said. "When he lost his wife, he thought he could go there and find peace."
Mr. Shuptrine of West Toledo retired in 1991 as president of Stanford E. Thal Inc., where he had worked since 1960. For much of his tenure, he was chief engineer and chief estimator of the firm, known for building and remodeling a variety of structures — warehouses, hotels, gas stations, and houses of worship.
"He enjoyed making buildings safe and making buildings well and doing it as efficiently as possible," said his son, John, who worked summers at the firm when in high school and college. "It was always, always about doing it in budget and the ability to handle the financial end of any building enterprise while having the skills to do the engineering side.
In late 1977, Mr. Shuptrine and two other employees bought the firm from Mr. Thal, who remained as a consultant.
"He felt like Stan Thal was a man of great integrity, and he modeled himself after Stan. He had a great deal of respect for him," his daughter said. "He would probably say that was the pinnacle of his career, to be able to take over as president and co-owner."
At home, he managed the family finances "in a way that created a good world for all his kids," his son said. "It was important to him, and it was part of the way he shared his love for the rest of his family, to ensure their financial well being."
He formerly worked for firms in Cincinnati and Oxford, Mich., and, in Toledo, for Samborn, Steketee, Otis, & Evans and Sanzenbacher, Miller, and Brigham. His work in general construction began with Fred W. Bostleman Corp.
He was born Aug. 29, 1929, to Vera and Harry Shuptrine, grew up in northwest Detroit, and was a graduate of Redford High School there.
He received bachelor's and master'‍s degrees in civil engineering from the University of Michigan. He and his wife married in February, 1951.
Mr. Shuptrine was a former commodore and board chairman of Bay View Yacht Club. He was a member of Epworth United Methodist Church.
Surviving are his daughters Karen Hughes and Julie Shuptrine; son, Dr. John Shuptrine; five grandchildren, and two great-granddaughters.
Services will be at 1 p.m. Saturday at Ansberg-West Funeral Home, where the family will receive guests after noon.
The family suggests tributes to Paws and Whiskers Cat Shelter in Toledo.
Contact Mark Zaborney at: mzaborney@theblade.com or 419-724-6182.
Guidelines: Please keep your comments smart and civil. Don't attack other readers personally, and keep your language decent. Comments that violate these standards, or our privacy statement or visitor's agreement, are subject to being removed and commenters are subject to being banned. To post comments, you must be a registered user on toledoblade.com. To find out more, please visit the FAQ.