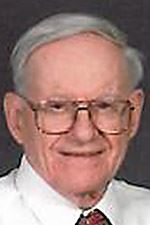 Don "Johnny" Dietsch
FINDLAY — Don C. "Johnny" Dietsch, a master candy maker who with his brothers started a chocolate and ice cream shop that has become a Findlay institution, died Sunday in Heritage Manor, Findlay. He was 97.
He had congestive heart disease and was in failing health, his son Bill said.
Mr. Dietsch officially retired in 1981 from full-time candy making at Dietsch Brothers in Findlay. Into his 90s, he helped out before Christmas and during other busy seasons.
"He had a knack for it. He could dip chocolates really quick," said his nephew Jeff Dietsch, current co-owner with his brother Tom. Jeff and Tom's father, Roy "Snitz" Dietsch, helped out when his brothers Don and Chris "Bud" Dietsch in late 1937 bought a bakery. The brothers instead started making chocolates and ice cream. Roy joined full-time after he finished high school in 1938.
The brothers used family recipes refined by their late brother Ed, who with Don and Chris had opened a candy business in the late 1920s. That first business was forced to close in the mid 1930s after Ed died.
"They just gave us a great basis for us to move forward — a quality product," said Jeff Dietsch, whose daughter, Erika Brokamp, works in the business. "And that'‍s what we've continued."
"He was very easy going," his nephew said. "He probably ate ice cream every day while he worked."
Mr. Dietsch'‍s son Bill said, "He was certainly proud of what the guys have done."
He was born June 29, 1916, to Margaretha and Charles Dietsch. He was a 1935 graduate of Findlay High School. He was an Army veteran and served in Japan after World War II.
Cabinet work and making wooden bowls turned on a lathe were his chief avocations.
He was a member and deacon at First Christian Church, but also attended First Presbyterian Church.
"He was very quiet and hard working and God-fearing," his son said.
Mr. Dietsch married Willa Gene Wright on Oct. 21, 1939. She died Oct. 8, 1994. He married Kathleen Strait on June 28, 1997. She died May 3, 2011.
Surviving are his sons, William and Daniel Dietsch; stepson Charles Colegrove; sister, Betty Baughman; five grandchildren; two stepgranddaughters; seven great-grandchildren, and three stepgreat-grandchildren.
Visitation will be from 2 to 4 p.m. and 6 to 8 p.m. today in Coldren-Crates Funeral Home, Findlay, where services will be at 10 a.m. Thursday.
The family suggests tributes to Bridge Home Health and Hospice; Findlay City Mission; First Christian Church, or a charity of the donor's choice.
Contact Mark Zaborney at: mzaborney@theblade.com or 419-724-6182.
Guidelines: Please keep your comments smart and civil. Don't attack other readers personally, and keep your language decent. Comments that violate these standards, or our privacy statement or visitor's agreement, are subject to being removed and commenters are subject to being banned. To post comments, you must be a registered user on toledoblade.com. To find out more, please visit the FAQ.