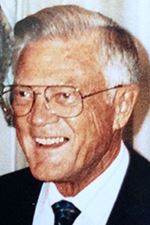 Cooke
Dr. Robert F. Cooke, a leading orthopedic surgeon in the Toledo area for decades who encouraged young colleagues and kept up on the latest advances, died Wednesday in Perry Farm Village, a retirement community in Harbor Springs, Mich. He was 93.
"He died peacefully in his sleep," his son Robert, Jr. said. Dr. Cooke, formerly of Sylvania Township, had kidney failure.
He retired from surgery in 1990 and remained vigorous and athletic. He last skied Colorado at age 85.
Dr. Cooke was a founder of the practice group Northwest Ohio Orthopedic Surgeons, a former chief of orthopedic surgery at Toledo Hospital and was an acting chairman of the orthopedic surgery department at the former Medical College of Ohio.
"He was a real pillar of the orthopedic community here for a long time," said Dr. Bob Hartwig, who practiced with him in the orthopedic surgeons group.
"Bob Cooke was someone everyone emulated. He practiced a high level of medicine," Dr. Hartwig said. "He was a model physician and surgeon. He was very current in his practice and used excellent judgment."
Dr. Cooke readily answered queries and offered advice and was a "good example for young orthopedic surgeons in this community," said Dr. Hartwig, who joined the practice in 1980. "That may be his lasting legacy."
Dr. Cooke also had been a clinical associate professor of orthopedic surgery at MCO and was an orthopedic consultant to the Hemophilia Clinic of Northwest Ohio.
He was born Nov. 26, 1920, to Zana and Carl Cooke and was a 1939 graduate of Maumee High School. He received a bachelor's degree from the University of Toledo and a medical degree from what is now Case Western Reserve University.
After a general orthopedic residency in Cleveland and a children's orthopedic residency in Akron, he began an orthopedic practice in Petoskey, Mich. in 1955. He returned to the Toledo area about five years later.
Dr. Cooke played football and ran track in high school. As a child he taught himself to sail, through trial and error, on the Maumee River. He was a charter member of North Cape Yacht Club, LaSalle, Mich., on Lake Erie.
He raced sailboats on the Great Lakes with the calm and focus he employed in surgery, his son said. He sailed the Atlantic, Pacific, and Caribbean. He was a pilot and played ice hockey.
"He wasn't a stuffy type of individual. He didn't make people feel awkward," his son said. "Normally his demeanor was, 'Life's too short. You might as well be friendly and enjoy it and have people enjoy you.' "
He'd been a member of Epworth United Methodist Church.
He and his wife, Marjorie, married Sept. 11, 1943. She died April 10, 2009.
Surviving are his daughters, Carol Esplin and Laurie Seltenright; sons, Robert, Jr., and Jim Cooke; eight grandchildren, and six great-grandchildren.
Memorial services will be at 11 a.m. Aug. 15 in First Presbyterian Church, Harbor Springs, where he was a member. Arrangements are by Schiller Funeral Home, Harbor Springs.
The family suggests tributes to the Dr. R.F. Cooke Care Giving Fund at Perry Farm Village in Harbor Springs or to a charity of the donor's choice.
Contact Mark Zaborney at: mzaborney@theblade.com or 419-724-6182.
Guidelines: Please keep your comments smart and civil. Don't attack other readers personally, and keep your language decent. Comments that violate these standards, or our privacy statement or visitor's agreement, are subject to being removed and commenters are subject to being banned. To post comments, you must be a registered user on toledoblade.com. To find out more, please visit the FAQ.