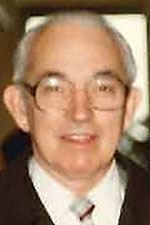 Gee
LaMont E. Gee, an electrical engineer and company executive skilled at the repair of industrial-sized electrical motors and a World War II Army veteran who built bridges across Western Europe after D-Day, died Wednesday in Kingston Care Center of Sylvania. He was 89.
He had pneumonia, but was in poor health for much of the last two years, his son, Tom, said.
On May 28, 2012, Mr. Gee was grand marshal of the annual Sylvania Memorial Day parade. Afterward, he addressed those gathered for the service at Veterans Memorial Field.
Mr. Gee of Sylvania was vice president of Kiemle-Hankins Co. in Perrysburg Township and general manager of its industrial repair services division until 1990. He oversaw the repair of transformers for electric utilities and large motors that generate power for ships and are used in auto factories and steel mills.
"We are in a very technical business — very large electrical equipment," said Steve Martindale, Kiemle-Hankins chairman. "He was one of the finest technicians in that industry. He was very well-respected in our industry, which is a small but important industry."
Mr. Gee continued to be a consultant to the firm after retirement.
He attended Chicago Technical School on the GI Bill after the war and received a degree in electrical engineering. He worked for Westinghouse Electric Corp. in Chicago, Indianapolis, and Cincinnati.
He was back in Chicago as a sales manager for the Westinghouse apparatus repair plant when, in 1968, Romanoff Electric Service Inc. in Toledo hired him.
He later worked for National Electric Coil in Detroit and commuted.
He was born March 3, 1925, in Des Moines, the sixth of what became 13 children. He grew up on a farm, rising early to milk the cows, finding a way to repair equipment.
"He just was really an inventor type. He could fix anything," his son said. In the mid-1950s, he invented a revolving Christmas tree stand for his family. He received a patent during his time with Westinghouse.
The day in 1943 that Mr. Gee graduated from East High School, he received his Army induction notice, as did all his male classmates.
He landed at Utah Beach two days after D-Day as a private in the 988th Treadway Bridge Co. of the 1120th Engineer Combat Group. He and his comrades were focused on putting up bridges and didn't have time for combat, as he said in Andrew "Bud" Fisher'‍s book of interviews with area veterans, What A Time It Was.
"We were strictly defensive, not the aggressors," Mr. Gee said to Mr. Fisher.
While defending a bridge that enemy aircraft tried to destroy, Mr. Gee was shot in the throat. He was sent to London for treatment, part of which involved singing, to save his voice. He received a Purple Heart and Silver Star.
"He was a charter member of the greatest generation," Mr. Martindale said.
Mr. Gee sang bass in church choirs, most recently at Olivet Lutheran.
Surviving are his wife, Lucille, whom he married Nov. 22, 1947; son, Thomas; daughters Carolyn Towle, Marian McBee, and Lauren Carroll; sisters Esther Moss, Eleanor Uehling, and Nancy Evans; brothers, Harlan and Larry Gee; six grandchildren, and four great-grandchildren.
The family will receive visitors from 5-8 p.m. today at Reeb Funeral Home in Sylvania. Memorial services will be at 11 a.m. Saturday in Olivet Lutheran Church, Sylvania.
The family suggests tributes to the National Multiple Sclerosis Society or Olivet Lutheran Church.
Contact Mark Zaborney at: mzaborney@theblade.com or 419-724-6182.
Guidelines: Please keep your comments smart and civil. Don't attack other readers personally, and keep your language decent. Comments that violate these standards, or our privacy statement or visitor's agreement, are subject to being removed and commenters are subject to being banned. To post comments, you must be a registered user on toledoblade.com. To find out more, please visit the FAQ.