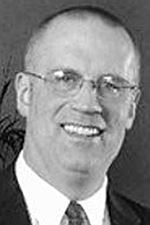 Ramlow
BOWLING GREEN — Eric A. Ramlow, who worked in finance and accounting, most notably over a 25-year career at Owens-Illinois Inc., and volunteered with a prison ministry and his church, died Saturday in Mercy St. Vincent Medical Center. He was 53.
He was taken to Mercy St. Vincent Saturday after he was struck by a vehicle while bicycling in Wood County's Plain Township, southwest of Bowling Green. The sheriff's office is continuing an investigation.
Mr. Ramlow, formerly of Waterville, most recently was controller of BioFit Engineered Products in Bowling Green. For much of 2014, he oversaw the finances of Toledo Area Ministries.
He worked at O-I from 1988 to 2013.
"He was really proud of the different roles he got to serve there," son Matthew said.
Early responsibilities at O-I included financial reporting and pricing analysis. Later duties included directing finance, administration, procurement, and control governance for global operations of the glass container manufacturer.
"He enjoyed the challenge it always gave him," his brother, John, said.
Mr. Ramlow understood finance and could "boil it down to simple points," son Matthew said. "He was definitely a dedicated worker, willing to put in the time. But he had a good work-life balance."
Mr. Ramlow was a member most recently of First United Methodist Church in Bowling Green, where he took part in mission work and oversaw the community food pantry. He was a former member of Waterville United Methodist Church.
He grew up a member of Holy Trinity Lutheran Church in Toledo, as were his parents and siblings, but "it came upon him a little later in life that he was going to be more passionate about this," his brother said. "He grew every day more strongly in his thoughts and feelings."
Mr. Ramlow later took part in the Kairos Prison Ministry at Toledo Correctional Institution, spending time with the inmates in the facility to "let them know that God is there for them, and let them know that Jesus is their savior," his brother said.
He inspired the faith of his three sons, son Matthew said. His aim, whether through the prison ministry or a Bible study with peers was "helping other people understand their relationship in the Lord," Matthew said.
He was born July 26, 1962, to Kathryn and Bertram Ramlow. He was a 1980 graduate of Bowsher High School, where he played football. He received a degree in accounting from the University of Toledo, as had his father and as would his son Adam.
Mr. Ramlow regularly bicycled to work, even when the commute was from Waterville to downtown Toledo. He exercised most mornings at the Bowling Green Community Center. Hiking and camping trips were a regular family activity. Standing 6-foot-5, he "had a dominant presence wherever he went," son Matthew said. "He was full of a lot of good spirit and positive energy."
His marriage to the former Patricia Miller ended in divorce.
Surviving are his wife, Margaret "Meg" Ramlow, whom he married July 7, 2007; sons, Christopher, Matthew, and Adam Ramlow; stepson, Kevin Davis; mother, Kathryn Ramlow; brother, John Ramlow, and sister, Constance Kramer.
Services will be at 11 a.m. today in First United Methodist Church, Bowling Green. Arrangements are by Dunn Funeral Home, Bowling Green.
The family suggests tributes to the Toledo Northwestern Ohio Food Bank.
Contact Mark Zaborney at: mzaborney@theblade.com or 419-724-6182.
Guidelines: Please keep your comments smart and civil. Don't attack other readers personally, and keep your language decent. Comments that violate these standards, or our privacy statement or visitor's agreement, are subject to being removed and commenters are subject to being banned. To post comments, you must be a registered user on toledoblade.com. To find out more, please visit the FAQ.