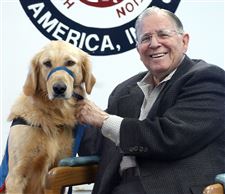 Richard 'Dick' Ransom was a longtime benefactor to Assistance Dogs of America, a cause he believed in.
THE BLADE
Enlarge | Buy This Image
Richard K. "Dick" Ransom, the founder of Toledo-based Hickory Farms, Inc., was a "business visionary" and a marketing genius, say those who knew him best.
He pioneered retail techniques that are now widely copied by competitors and led to explosive growth in the specialty-food category.
Yet Mr. Ransom, who died Monday at the age of 96, mostly gave up his retail career in 1980 and launched a new career of helping others.
"I think his big love was his philanthropy," said Tony Knight, a close friend and Toledo-area business associate.
Mr. Ransom sold Hickory Farms in 1980 for $40 million to General Host Corp.
The company was later sold four more times, most recently in November to Modjule LLC, a private equity firm.
A company spokesman said Hickory Farms, now headquartered in downtown Toledo, no longer keeps any relics of the company from the old days.
But Diane Pearse, who was named chief executive officer of Hickory Farms just three weeks ago, issued a statement Tuesday acknowledging Mr. Ransom's importance.
"Hickory Farms mourns the passing and celebrates the life of our founder Richard K. Ransom. He was a retail visionary and an advocate for giving back to the community," Ms. Pearse said. "His care for the customer and passion for providing delicious products that people enjoy sharing is the foundation of what we do today."
Hickory Farms was launched in 1951 when Mr. Ransom, augmenting a Sandusky business he called Dick's Market, decided he could make extra money by selling fruits and cheeses at times at local home shows, county fairs, and exhibitions.
He would set up a booth at the home and travel show at Toledo's old Civic Auditorium and sell cheese, enticing buyers by giving them a free sample — a strategy the company still employs at its mall and shopping center kiosks — and then trying to get them to purchase a larger portion.
Stanley Eichelbaum, president of Marketing Developments Inc. in Fort Lauderdale, Fla., and a retail consultant in Toledo and Cincinnati for four decades, said Hickory Farms' pioneering methods and Mr. Ransom's marketing strategies are firmly established in retail history.
"Certainly the specialty gift food category, they were the originators of it with all their prepackaged items," Mr. Eichelbaum said. "But they were an innovator in several other different ways."
Hickory Farms was the first to make combo packages of meats, cheese, and condiments. They also were pioneers in the gift food shipping category, Mr. Eichelbaum said.
"And then, as a temporary tenant coming in for the holiday season, they developed the seasonal kiosk, which has developed into a billion-dollar business. Not to mention that they were a highly desirable [mall] tenant for a number of years."
James White, Jr., a local attorney who was a partner with Mr. Ransom and five other local businessmen in the formation of Tomahawk Development Corp., which was the main developer of Arrowhead Park in Maumee, said the late Hickory Farms' founder had boundless energy.
"If there's any word that could describe Dick, it's that he was a dynamo," said Mr. White, who became Mr. Ransom's adviser and outside general counsel for Hickory Farms when it became a publicly traded company in 1971.
"He was a visionary, there's no question about it. He was great at marketing and sales," Mr. White said.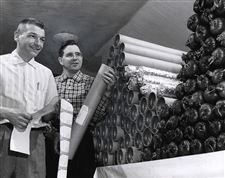 Richard 'Dick' Ransom, right, and his cousin and associate, Earl Ransom, shown in 1959, developed their own smoked beef product to expand the cheese line they sold at trade shows.
THE BLADE Enlarge
Mr. Ransom was clever enough to recognize that up-selling to customers, that is, giving a little more than what they asked for, would make a little more profit, Mr. White said.
"He understood that when customers came in to Hickory Farms and they would ask for a quarter pound of cheese, his people were trained to go just slightly beyond a quarter pound. They were to err on the excess side and customers would say, 'that's fine,' " Mr. White said.
But Mr. Ransom would never deceive anyone.
"As a businessman, he was the most honest, moral, and righteous guy you would ever know," he added.
Mr. Knight, CEO of New Waste Concepts Inc. of Perrysburg, said Mr. Ransom's honest approach to retail probably even cost him some profit.
"He developed the sense that the customer was always right — always," Mr. Knight said. "He had strict orders to his store managers — and he would send people around to test this — that if you brought something back because you were unsatisfied, the manager was not to question you about it. He was to immediately reimburse you or give you something new."
That sense of taking good care of others translated into Mr. Ransom's personal life, his friends said.
"Dick was a great family man. He was very, very generous with his time and money," Mr. White said, adding that when he sold Hickory Farms to General Host, Mr. Ransom didn't look back even when General Host caused the company to slip into financial trouble.
That may have been because Mr. Ransom's real passion was philanthropy in the community, his friends said.
Mr. Ransom frequently recounted how his experiences in World War II on Okinawa, Japan, seeing children injured and starving, caused him to get involved later with numerous charities that help children.
"After 1980, he no longer ran a business on a day-to-day business so he served in the community by serving on boards and fund-raising," Mr. Knight said.
"He raised millions of dollars for [muscular dystrophy] and he was very committed to helping kids in the community," Mr. Knight added. Mr. Ransom once sold his rare and prized Excalibur automobile to raise funds for charity.
Mr. Ransom was a local winner of the Jefferson Award for Public Service in 2004. The local chapter of the National Society of Fund Raising Executives named him "outstanding philanthropist for 1996."
In 1983, he founded Adopt America Network, as it is now called, to find permanent families and homes for children in foster care.
In his later years, he became a longtime benefactor to Assistance Dogs of America, a cause he became passionate about.
The center to train service dogs began as a home for delinquent boys, but Mr. Ransom later donated the land in Swanton to the Kiwanis Club of Toledo, as long as it leased the land to Assistance Dogs of America for $1 a year. Dogs are trained there to assist the disabled.
Mr. Knight said, "You had a sense that if somebody was going to do the right thing for the community, it would be Dick."
Mr. Knight said a good example is the difference between Arrowhead Park and the development on U.S. 20 in Perrysburg and Rossford.
"The Crossroads of America area doesn't have what Arrowhead has. It's fractionalized. We have no one in the community to step up, as a Dick Ransom did, to say I'm going to sell you this big piece of land and I'm going to help you develop this and see that you do the right thing for the community. There's nobody like that anymore," Mr. Knight said.
His wife of 63 years, the former Elizabeth "Betty" Meinert, died March 14, 2009.
Surviving are his daughters, Carol Batdorf, Lynn Connolly, and Janet Sarieh; son, Robert; nine grandchildren, and 12 great-grandchildren.
Visitation for Mr. Ransom will be from 4-9 p.m. Friday in the Reeb Funeral Home, Sylvania, where services will be at 11 a.m. Saturday.
The family suggests tributes to Adopt America Network.
Contact Jon Chavez at: jchavez@theblade.com or 419-724-6128.
Guidelines: Please keep your comments smart and civil. Don't attack other readers personally, and keep your language decent. Comments that violate these standards, or our privacy statement or visitor's agreement, are subject to being removed and commenters are subject to being banned. To post comments, you must be a registered user on toledoblade.com. To find out more, please visit the FAQ.