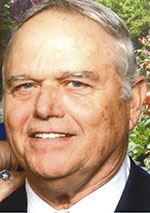 Crots
OTTAWA LAKE, Mich. — Raymond Crots, a longtime owner and operator of a Kampgrounds of America franchise in Summerfield Township, died Sunday in Kingston Residence of Sylvania. He was 79.
He had amyotrophic lateral sclerosis, also known as Lou Gehrig's disease, said his son Wayne. The elder Mr. Crots was diagnosed in 2015 when he was three years into the disease, his son said.
Mr. Crots of Ottawa Lake owned and operated the Monroe County KOA Campground from 1969, when he built and opened it after buying the land the year before, until 2008, when he sold it and retired.
The 42-acre park next to the Summerfield Road exit on U.S. 23 served about 100,000 campers per season.
"I camped all my life; I've also kind of been an entrepreneur," Mr. Crots said in a 1988 interview with The Blade. "I came from kind of a poor background. I started with $2,500 and a lot of faith in God."
Wayne Crots said his father's life "centered around the church and the Bible."
"He started the campground with hopes of helping the church financially," Wayne Crots said, adding that his father gave about $1 million to the church during his lifetime.
For Raymond Crots, summer months at the campground were nonstop work that included planning various festivals, like the bluegrass festival in August, and workshops held at the park.
Born Dec. 17, 1937, to Reid and Natalie Crots in Toledo, Mr. Crots grew up on a five-acre family farm in Ottawa Lake with three brothers and a sister, and worked for a small farmer for several summers during his high school years.
He graduated from Blissfield High School in 1956. Upon graduation he became a draftsman at the former Toledo Scale for about six months, and later that year enlisted in the Coast Guard, which assigned him to the Cutter Acacia in Port Huron, Mich.
After receiving his honorable discharge from the Coast Guard in the late 1950s, Mr. Crots went back to work at Toledo Scale, where he finished an apprentice program and became a senior designer until he bought the campground site in 1968, his son said.
Mr. Crots' family vacations often involved taking his family on camping trips in a motor home that he sold after his four sons grew up.
"My dad loved fishing. All our camping trips revolved around fishing," his son said, with Rice Lake, Ont., being a favorite spot.
In retirement, Mr. Crots enjoyed building birdhouses and bird feeders and occasional fishing before his health deteriorated, his son said.
Mr. Crots was a member of Wyldewood Baptist Church, 7947 Douglas Rd., Lambertville, where he was a deacon and volunteered to put together and deliver food packages for the needy.
Surviving are his wife Donna Crots, whom he married in 1960; sons, Wayne, Mark, Darrell, and Bryan; brothers, David and Virgil; 12 grandchildren, and eight great-grandchildren.
Visitation will be Wednesday from 3 p.m. to 8 p.m. at Reeb Funeral Home, 5712 N. Main Street, Sylvania, and will resume Thursday at 10 a.m. at the church, where funeral services will follow at 11 a.m.
The family suggests tributes to the church.
Contact Mike Sigov at: sigov@theblade.com, 419-724-6089, or on Twitter @mikesigovblade.
Guidelines: Please keep your comments smart and civil. Don't attack other readers personally, and keep your language decent. Comments that violate these standards, or our privacy statement or visitor's agreement, are subject to being removed and commenters are subject to being banned. To post comments, you must be a registered user on toledoblade.com. To find out more, please visit the FAQ.