Robert D. Phillips, a retired Perrysburg High School principal who continued to work in the district and volunteer in the community, died Tuesday at Parkcliffe Memory Care Community. He was 72.
He had Alzheimer's disease, his wife, Carol, said.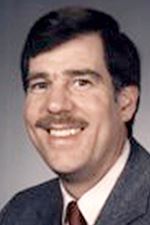 Phillips
He retired in 1997 after four years as principal of Perrysburg High. For the next 15 years, he temporarily filled various administrative roles when called on, including as a principal and an assistant principal. He also was a bailiff for Wood County Juvenile Court.
Mr. Phillips started his career at St. Francis de Sales High School. By 1969, he was teaching English at Perrysburg High. The subject was not the strong suit of many students.
"A lot of these kids, had it not been for Bob, would not have passed English or gone to Penta," said John Hrivnyak, the history and government teacher in the room next door, referring to the vocational high school. "Bob took them under his wing and made them realize that somebody, more than one somebody but especially he, cared about them."
From the classroom, Mr. Phillips became director of students and led the community education program. He was named an assistant principal of the high school in 1979. He enjoyed that job most, because he was among the students.
"He would go in at 5:30 in the morning and get his paperwork done and then be in the hall with kids and really know what was going on," his wife said. "The kids were drawn to him as he was drawn to them. He enjoyed their personalities and differences and their stories."
Tom Colvin, a retired Perrysburg High teacher, said: "He was somebody who was mild-mannered and trusted, and he was a very kind person. He was the right combination for the best thing that students ever had in school.
"Bob was a very selfless giver," Mr. Colvin said. "Even outside of school in the Perrysburg community, he was a leader and a giver, and he was there to help."
A longtime Perrysburg resident, Mr. Phillips was honored for his service to the Exchange Club of Perrysburg and was a co-chairman of the American Cancer Society's Relay for Life in northern Wood County. He was a former president of the Perrysburg Schools Foundation. He also volunteered for the city parks and recreation advisory board and for the Perrysburg Symphony.
He was born Oct. 15, 1945, in Cleveland to Ruth and Thomas Phillips. He was 10 years old when his father died, and found guidance in Carl Grob with the Big Brother program. They remained close for decades. He was a graduate of West Tech High School in Cleveland. He received a bachelor's degree in education from Bowling Green State University, from which he received a master's degree in special education and a specialist degree in administration and supervision.
Surviving are his wife, the former Carol Sherman, whom he married Aug. 26, 1967; daughters, Kimberly Hansen and Krista Walther; six grandchildren, and three step-grandchildren.
The family will receive friends from 2-7 p.m. Saturday and 1-5 p.m. Sunday at Witzler-Shank Funeral Home, Perrysburg. Services will be private. The family suggests tributes to the Robert Phillips Fund in care of the Perrysburg Schools Foundation; Alzheimer's & Dementia Care Services of Northwestern Ohio, or Grace United Methodist Church, Perrysburg, where he was a member.
Contact Mark Zaborney at mzaborney@theblade.com or 419-724-6182.
Guidelines: Please keep your comments smart and civil. Don't attack other readers personally, and keep your language decent. Comments that violate these standards, or our privacy statement or visitor's agreement, are subject to being removed and commenters are subject to being banned. To post comments, you must be a registered user on toledoblade.com. To find out more, please visit the FAQ.