Betty B. Rumpf Schlaudecker, founder of an interior design business who guided clients in decorating homes and offices with taste, died Tuesday in Kingston Care Center of Sylvania. She was 97.
Mrs. Schlaudecker had dementia, said her son Jim Rumpf, president of Betty Rumpf Interiors.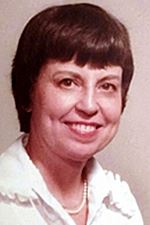 Schlaudecker
She started in the profession as a seamstress and, early on, made fine draperies for Lucille Hughes, an Old West End interior decorator and antiques dealer.
She had been a designer and a manager at the Gartha Fuller studio when, in 1960, she and her first husband, John Rumpf, rented a small space in the Ottawa Hills Shopping Center on West Central Avenue to start the firm. She had developed a following, and loyal clients followed, her son said. Her husband left his job as credit manager with Gulf Oil in downtown Toledo to be the firm's business manager.
"Being a woman owner of a business gave her great satisfaction," her son said. "Everybody really respected her for her talents.
Her husband died April 8, 1972. Afterward, son Jim left his job to run the business side.
The hallmark of the shop "was always traditional-looking furniture and design," Mr. Rumpf said. "It was always solid wood and top quality, stuff you don't see much of today unless you come to Betty Rumpf Interiors."
The heart of the client base remains Ottawa Hills, her son said, but the firm has done design work and sold furniture from Adrian to Findlay, in Toledo, Sylvania, and Perrysburg.
"She would have to go to [clients' ] homes and take a lot of notes and see the space," her son said. "It was, 'What do you like?' It was about working around their existing things. She enjoyed putting things together."
A Realtor who handled Ottawa Hills properties often brought the interior designer along, to help prospective buyers imagine the possibilities in a home. When that helped clinch the sale and, her son said, "sure enough, we'd have a new client."
"She always had a smile on her face. She was very gracious," her son said. Some clients "didn't necessarily have taste," Mr. Rumpf said. She led them through choices of complementary wall and floor coverings and furniture.
"She was so good at that. She could persuade them, 'That really really doesn't go with that,' " her son said.
In the 1970s, she and her son expanded the design staff and took additional space in the shopping center, which they eventually bought.
She and her second husband, George Schlaudecker married in 1980, and she retired in 1985.
After Mrs. Schlaudecker retired the couple went on cruises and took part in motor home caravans to Alaska and through Mexico.
Mrs. Schlaudecker was born June 12, 1920, in Mendon, Ohio, to Mary and Carl Grimm and was a graduate of Memorial High School in St. Marys, Ohio. She had been a member of Zonta, the women's service group, and the Toledo Club.
Her son Jack Rumpf died Feb. 4, 2009. Mr. Schlaudecker died June 14, 2011.
Surviving are her sons Jim, Jeff, and Tom Rumpf; stepsons Bill and David Schlaudecker; sisters Jackie Badger and Mary Evelyn Paul; brothers Kenneth and Douglas Grimm; eight grandchildren; three step-grandchildren, and 13 great-grandchildren.
Funeral services will be at 10 a.m. Monday at St. Joseph Church, Sylvania, where the family will receive guests after 9 a.m. Arrangements are by Walker Funeral Home.
The family suggests tributes to the Alzheimer's Association or a charity of the donor's choice.
Contact Mark Zaborney at mzaborney@theblade.com or 419-724-6182.
Guidelines: Please keep your comments smart and civil. Don't attack other readers personally, and keep your language decent. Comments that violate these standards, or our privacy statement or visitor's agreement, are subject to being removed and commenters are subject to being banned. To post comments, you must be a registered user on toledoblade.com. To find out more, please visit the FAQ.