John Bothwell Hadley, who had executive roles with the former Franklin Ice Cream Co. and an affiliated firm formed to develop a regional shopping center on the site of what is now Franklin Park Mall, died Nov. 22 in Lakes of Sylvania. He was 94.
He'd developed age-related health problems, especially since August, his son, John Reynolds Hadley, said.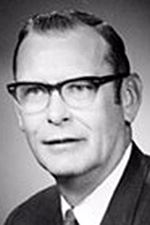 Hadley
Mr. Hadley, formerly of Ottawa Hills, retired in the late 1980s from Bowling Green-based Mid-American National Bank and Trust Co., where he was vice president-trust. He'd been named several years earlier as the bank's Toledo-area trust officer by Ashel Bryan, Mid-Am's then chairman and chief executive, and worked from its downtown Toledo banking center.
For about a decade starting in 1954, Mr. Hadley was associated with Franklin Ice Cream, a beloved institution of many Toledo childhoods. His father-in-law, Irving Reynolds, was in charge of Franklin and in 1952 formed Reynolds Building Co. with the aim of developing a shopping center near Monroe Street and Talmadge Road, where Franklin Ice Cream had its headquarters, store, and plant — and for several years, an airport.
As the firm expanded into Cleveland and Columbus, Mr. Hadley became an assistant manager and then operating manager of Franklin's Toledo division. He became a company director and, in 1962, vice president. His father-in-law served in the Ohio House of Representatives, which meant Mr. Hadley at times had additional duties.
"He loved Grandpa like his own father," his son said.
Mr. Hadley also was vice president and a director of Reynolds Building. Mr. Reynolds' hoped-for shopping center received a boost in 1962 with a lease offer from Youngstown developer Edward J. DeBartolo, but plans for a complex of shopping, offices, apartments, and motels did not materialize.
In 1966, the J.C. Penney Co. announced a purchase agreement to acquire land from Reynolds Building.
"They were the big anchor tenant Dad had secured for the project," his son said.
The Rouse Co. became the developer of Franklin Park Mall, which opened July 20, 1971. Lamson Bros. and the J.L. Hudson Co. joined Penney's as anchors.
Franklin Ice Cream in 1964 was sold to United Dairy Farmers. Mr. Hadley that year was named manager of the new commercial-industrial department of the Welles-Bowen Co., a real estate firm. He later was a pension trust administrator for Toledo Trust Co. and was a trust officer of Lucas County State Bank in Toledo before Mr. Bryan of Mid-Am hired him.
Mr. Hadley was smart and, as the trust business required, circumspect, his son said.
"You have to be a good people person, and he was, and he knew a lot of people in town," his son said. "He would do whatever he needed to do to do the right thing for the people."
He and his wife were dedicated to philanthropy and were co-founders of the Silverback Society, which benefits the Toledo Zoo, and supporters of the Toledo Museum of Art and Toledo Symphony. They were longtime members and supporters of Ashland Church.
He was born Nov. 29, 1922, to Florence and Robert Welch Hadley. He was a graduate of DeVilbiss High School. He received a degree in mechanical engineering from the University of Michigan. He was a Navy veteran and served in the Pacific theater at the end of World War II.
Surviving are his wife, the former Ruth Reynolds, whom he married April 28, 1951; son, John Reynolds Hadley; daughter, Judith Marie Hadley; six grandchildren; two great-grandchildren; three step-grandchildren, and six step-great-grandchildren.
A service will be scheduled later, likely in 2018, his son said. Arrangements are by Reeb Funeral Home, Sylvania.
The family suggests tributes to the permanent trust fund of Ashland Church in Oregon; the Silverback Society of the Toledo Zoo Foundation; the Toledo Museum of Art, or a charity of the donor's choice.
Contact Mark Zaborney at mzaborney@theblade.com or 419-724-6182.
Guidelines: Please keep your comments smart and civil. Don't attack other readers personally, and keep your language decent. Comments that violate these standards, or our privacy statement or visitor's agreement, are subject to being removed and commenters are subject to being banned. To post comments, you must be a registered user on toledoblade.com. To find out more, please visit the FAQ.