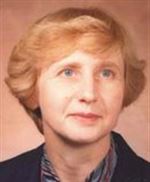 Elfriede Brunner, age 78 of Toledo, Ohio, lost her two year battle with stomach cancer on Nov. 26, 2017.
Elfriede Brunner, a retired high school foreign language teacher who introduced the music and literature of her native Germany to students, died Nov. 26 in Hospice of Northwest Ohio. She was 77.
She was diagnosed with stomach cancer about two years ago, said her son, Peter.
Mrs. Brunner of South Toledo, retired in 2007 after teaching German and Spanish for 27 years at St. John's Jesuit High School.
Frank Carnicom knew her both as a teacher and colleague. A teacher and head of the school's English department, he was in her class for three of the four years he took German.
Mr. Carnicom, who has taught at St. John's for nearly 20 years, said learning the German language taught him the elements of English grammar.
"I didn't go on to take German in college. But the grammar I learned in German I applied to English," he said. "My English classes in college taught me about literature. The grammar I teach in the classroom I learned from her."
Mrs. Brunner was born on April 14, 1940 in Schweinfurt, Germany. She and her husband, Guenter, and their two young children immigrated in 1964 to the United States. The couple first settled in Muncie, Ind., where she earned her bachelor's degree from Ball State University.
They later moved to Maryland, where she took classes to earn a masters degree from the University of Maryland at College Park.
Prior to teaching at St. John's, she taught at high schools in New Jersey.
Mr. Carnicom said Mrs. Brunner's classes included translating German operas and classic literature into English and studying the country's culture.
He said she inspired him to listen to opera and include Germany in his travels.
"Because of her I have been to the opera hundreds of time and have become a lifelong fan," he said. "I have been to Germany three times and I credit that to learning German from her."
Barb Trimble, a German and fine arts teacher at St. John's, said Mrs. Brunner was chairman of the foreign language department for nearly her entire career at the school and adviser to the German Club.
She said she also escorted students on trips to Germany and other countries in Europe, including England, Italy, France, and Austria.
"She loved traveling and taking students with her overseas," she said.
Surviving are her husband, Guenter; daughter, Evelyn Brunner; son, Peter Brunner, and three granddaughters.
A memorial service will be at 3:30 p.m. Wednesday in St. John's Jesuit High School.
Guidelines: Please keep your comments smart and civil. Don't attack other readers personally, and keep your language decent. Comments that violate these standards, or our privacy statement or visitor's agreement, are subject to being removed and commenters are subject to being banned. To post comments, you must be a registered user on toledoblade.com. To find out more, please visit the FAQ.