Jean Baillies Voss, an active community member known for her volunteer work, died Friday at Sunset House in Ottawa Hills. She was 98.
The cause of death was congestive heart failure, said her daughters, Robyn Voss Barrie and Jeanie Voss.
"She was very warm and friendly," Ms. Voss said. "She was more than enthusiastic in responding to the kind things people did. She was not boisterous, though. She was ladylike, but not prissy."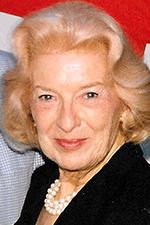 Voss
Mrs. Voss was born on Sept. 16, 1919, to Sidney T. and Minnie Duncan Baillies in Minocqua, Wis. She attended the University of Wisconsin, where she studied speech and drama. She graduated and taught for a year at a small college before joining the American Red Cross at the age of 25.
She was shipped overseas to London, where she worked at the G.I. Convalescent Center during World War II. There, she worked on keeping spirits and morale high among the wounded American servicemen who were waiting to either return to battle or head back to the United States. Following her time there, she was transferred to Salzburg, Austria, where she worked to keep servicemen on leave entertained. She remained there through the end of the war.
It was there that she met her husband, Frank Voss, who was the entertainment director for Armed Forces Radio. They quickly became engaged, with Mr. Voss proposing on air on Christmas Eve. They would be married 60 years until Mr. Voss' death.
The couple returned to Reading, Pa., Mr. Voss's hometown, where Mrs. Voss taught speech and drama at Albright College. He was managing a radio station when a Dana Corp. executive met Mr. Voss, and decided to hire him on the spot. The coupled moved with their two daughters to West Toledo, where Mrs. Voss devoted most of her time to raising her children.
The family lived near Lincolnshire Elementary, with plans for their daughters to walk to school when they each started kindergarten. When Mrs. Voss discovered the school did not offer kindergarten, she became determined to change that, and eventually succeeded.
"She got everybody fired up," Ms. Voss said. "She just wanted there to be kindergarten right there."
Mrs. Voss was also an early participant in The Village Players, producing and performing in variety shows that were held in outdoor tents before the theater group got a building to call home.
"They were very funny, and they brought a lot of people together," Ms. Voss said.
Surviving are her two daughters, Robyn Voss Barrie and Jeanie Voss, and two grandchildren.
"She was a very good grandmother," Mrs. Barrie said. "That was her great joy."
Visitation will be from 12 to 2 p.m. Friday at the Foth-Dorfmeyer Mortuary, with graveside prayers to follow at Joy Cemetery in Ottawa Hills. An additional celebration of life service will be held at the Inverness Club at 4 p.m. on Jan. 6.
The family suggests tributes to the Toledo Museum of Art, where she was a longtime art docent and aide.
Contact Zack Lemon at zlemon@theblade.com, 419-724-6282, or on Twitter @zack_lemon.
Guidelines: Please keep your comments smart and civil. Don't attack other readers personally, and keep your language decent. Comments that violate these standards, or our privacy statement or visitor's agreement, are subject to being removed and commenters are subject to being banned. To post comments, you must be a registered user on toledoblade.com. To find out more, please visit the FAQ.