Gloria Ann Taylor, a Grammy nominee whose soul records from the 1960s and 1970s are prized by music followers of the era, but who focused afterward on singing in church, died Dec. 8 at her South Toledo residence. She was 73.
The cause of death was not known, her sister Doris Williams Johnson said. Ms. Taylor's daughter, Laretta Martin, 56, died Nov. 7.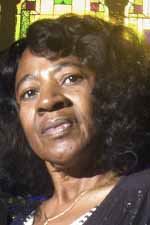 Taylor
THE BLADE
Enlarge | Buy This Image
Ms. Taylor was a featured soloist the past 18 years at River of Life Church on Upton Avenue, founded by a nephew, Bishop John Williams.
Her voice was melodic, and she could sing out as the material required, said nephew Mark Williams, minister of music at River of Life Church.
"There was none like her voice," Mr. Williams said.
Ms. Taylor was nominated for the 12th annual Grammy Awards in the category of best R&B vocal performance by a female for the song, "You Gotta Pay the Price." Ruth Brown, Tina Turner, and Dee Dee Warwick joined Ms. Taylor as also-rans when the award in March, 1970, went to Aretha Franklin.
In 2015, the label Ubiquity reissued Ms. Taylor's album of the early 1970s, Love Is A Hurtin Thing, produced by her late husband, Walter Whisenhunt, who was a promoter for James Brown. A review on the NPR news program All Things Considered said that the title tune, "with its steady thump, dramatic strings, and Taylor's piercing vocals ... became embraced as a proto-disco classic."
Her sister said: "Her voice was one of the most anointed voices. It was so magnificent. She touched so many people singing R&B and gospel."
She was born Sept. 13, 1944, in Dehue, W.Va., to Ruby and George Taylor.
She was 2 years old when the family moved to Toledo. She had rheumatic fever, Ms. Taylor told The Blade in 2014, and a doctor said she'd only live until she was 16. For several years, she was a student at Feilbach School for Crippled Children. She later attended Woodward High School.
She went to Bethel Chapel with her mother.
"My mother was a great singer and I took a whole lot from her," Ms. Taylor told The Blade. Ms. Taylor in her youth sang and toured with the Emerald Gospel Singers and the Gospel Chordettes.
"She could touch you, your soul, your spirit," her brother Leonard Taylor said. "She had us crying."
While touring, Ms. Taylor encountered such gospel-music luminaries as Shirley Caesar and the Staple Singers.
Ms. Taylor as a young mother with bills to pay began to perform on Thursday, Friday, and Saturday nights in the early 1960s at a Toledo club, the Green Light, which is where Mr. Whisenhunt found her. She soon was performing and recording in Detroit.
She performed on occasion with James Brown's band, her brother said, and he was there for Ms. Taylor and Mr. Whisenhunt, "whenever we needed something," Ms. Taylor told The Blade. "That was a good man. James Brown was one of the nicest men I knew in the music business."
She and her husband moved to California, and she continued to record — including a version of Dolly Parton's "Jolene" — and to tour. She traced the decline in her commercial career to her husband's decision that she leave her record label, CBS.
She eventually returned to Toledo and never sang outside the church again.
"I still sing and people say, 'Girl, come on and record something!'" Ms. Taylor told The Blade in 2014. "But I put my heart and soul in that music. My children, my husband, my sisters, I was doing it for them too and for The Lord.
"I want to do what the Lord wants me to do because it seems like whenever I do what I want to, it works and then it doesn't," she said in 2014. "He let me live to be this old. Man, here I am 70 years old! That's a blessing so I just go with the flow."
Surviviors include her sons, Glenn and Edward Taylor and Walter Whisenhunt; sisters, Doris Williams Johnson and Daisy Birchfield; brothers, George and Leonard Taylor, as well as grandchildren and great-grandchildren.
Services will be at 11 a.m. Saturday at River of Life Church, with visitation after 10 a.m. Arrangements are by House of Day Funeral Service.
Contact Mark Zaborney at mzaborney@theblade.com or 419-724-6182.
Guidelines: Please keep your comments smart and civil. Don't attack other readers personally, and keep your language decent. Comments that violate these standards, or our privacy statement or visitor's agreement, are subject to being removed and commenters are subject to being banned. To post comments, you must be a registered user on toledoblade.com. To find out more, please visit the FAQ.