Ann La Rue, who was passionate about English and literature and taught at the University of Toledo, died Dec. 18 at her Ottawa Hills home after a long battle with several illnesses. She was 86.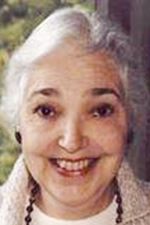 La Rue
"She was very interested in the things she was interested in, mostly literature," said stepson Steve La Rue. "But she was also passionate about being a parent. She spent a lot of time with all of us at every stage of our lives. She was a quite intense person, but she could be incredibly loving and affectionate as well."
Ms. La Rue was born Jan. 21, 1931, in Detroit to Alfred Lindbloom and Viola Williams. Her father was a successful trial lawyer, even trying a case before the U.S. Supreme Court.
She grew up an avid reader and spent much of her life around literature. Ms. La Rue received a bachelor's degree from the University of Michigan in 1952 before beginning her graduate work at the University of California, Los Angeles, in the 1970s. She married her second husband, Carl La Rue, in June, 1971, and moved to Ottawa Hills. Her husband served as general counsel for Libbey-Owens-Ford Company and was a skilled pianist. He died in 2013.
Once Ms. La Rue settled in northwest Ohio, she began schooling and teaching at UT. She received a master's degree in Latin and a doctorate in English literature in 1992. She was a professor at UT in the 1980s and 1990s, teaching 18th century English literature, Latin, and a Great Books class.
UT English professor William Free has taught at the university since the 1960s, and he oversaw Ms. La Rue's doctoral research on the 18th century and works of Sarah Fielding.
"My memory is that she continued to do that even after she completed her work because she liked doing it," he said.
Ms. La Rue credited her mother's adoptive sister, Gertha Williams, for piquing her interest in literature. Ms. Williams was one of the first American women to obtain a doctorate in psychology, and she became the head of the psychology department at Wayne State University.
Ms. La Rue shared a bedroom with her sister, Judith, growing up. Ms. La Rue created her own narrative, known as "The Song," which detailed the lives of a prince and a young woman. She recited it to her sister nightly for years.
Ms. La Rue became friends with Mr. Free's late wife.
"Ann liked to call my wife her sister," Mr. Free said. "They had a very warm relationship with each other. There was a book club some retired faculty members and my wife belonged to, and [Ms. La Rue] also belonged to it."
Ms. La Rue was also a dedicated volunteer, serving many causes and organizations. She was part of the anti-war movement in the 1960s and protested against racial segregation. She was involved with the League of Woman Voters and Planned Parenthood.
"When she wasn't teaching, she felt very drawn to helping others," Mr. La Rue said. "She was very involved in the antiwar movement. She was very concerned about civil rights. Those were political passions then. She had a lot of conviction about whatever topic, but she also got involved."
Surviving are her son, Eric Lindbloom Relyea; daughter, Sarah Flemming Relyea; stepsons, Steve and Edward Rice La Rue; sister, Jean Jacobson, and brother, Eric Lindbloom.
A memorial service will be held in the spring. The family suggests tributes to the UT English department or Toledo Museum of Art.
Contact Jay Skebba at jskebba@theblade.com, 419-376-9414, or on Twitter @JaySkebbaBlade.
Guidelines: Please keep your comments smart and civil. Don't attack other readers personally, and keep your language decent. Comments that violate these standards, or our privacy statement or visitor's agreement, are subject to being removed and commenters are subject to being banned. To post comments, you must be a registered user on toledoblade.com. To find out more, please visit the FAQ.