Carol A. Schumaker, a bank manager and executive who was a leader in the Sylvania business community and a trustee of her alma mater, Lourdes University, died Dec. 25 in her Sylvania Township home. She was 81.
She received home hospice care. She had dementia, said her husband, William Schumaker, who was her caregiver as her illness progressed.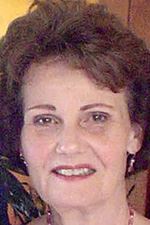 Schumaker
Mrs. Schumaker, a teller at Ohio Citizens Bank and Toledo Trust Co. early in her career, retired in the early 1990s from KeyBank, a successor of Toledo Trustcorp and then Society Bank. Titles she attained included assistant vice president and small business manager.
"She got along with people. She just had that knack," her husband said.
Days after Toledo Trustcorp's acquisition of the Sylvania Bank was completed at the end of 1985, George Haigh, Trustcorp's chairman and president, announced that Mrs. Schumaker would manage the former Sylvania headquarters during and after its $1 million renovation into a full-service branch and financial-services center. She oversaw two other branches as well.
Mrs. Schumaker became a director and then president of the Sylvania Chamber of Commerce. She was a director of the Sylvania Area Community Improvement Corp.
"She was on a first-name basis with the police chief and the mayor and the city council," her husband said. "She liked social challenges. Whatever she got into, she ran it to the limit. She was a skilled public speaker."
She was nearly 40 years old when she started classes at what was then Lourdes College in Sylvania. One course involved creating a portfolio to chronicle her training and skills. She compiled a 110-page notebook.
"As I finished the whole thing, it's just like 15 years of experience in one book," Mrs. Schumaker told The Blade in 1985. That included 93 hours of management and 48 hours of commercial lending courses on the job.
"[I] never realized how I've grown in my work experience," Mrs. Schumaker told The Blade then.
She previously managed the Toledo Trust branch in the 5900 block of West Central Avenue as well.
She received a bachelor's degree in business administration in 1987. She later served several years as a Lourdes trustee.
Her husband arranged a surprise vacation — a trip to Egypt — the day after her retirement. Of their world travels, she found an African safari to be a highlight, but the couple also walked the Great Wall in China and visited the Kremlin, voyaged 1,000 miles up the Amazon, and took 10 cruises.
Born April 28, 1936, to Kathern and Ralph Harless, she was a 1954 graduate of Burnham High School in Sylvania. Her husband was in the Navy Reserve and was placed on active duty in 1957 and deployed to Pearl Harbor.
Because she was considered a Navy dependent, her husband said, "she received orders also." She became a teller at the Bank of Hawaii and, on base, was among a group of Navy wives who organized a Southern Baptist Church.
Back home, she was longtime member, deaconess, and Sunday school teacher of what is now Westgate Chapel in Sylvania Township.
Her son, Douglas, died Dec. 21, 2014.
Surviving are her husband, William, whom she married June 19, 1954; three grandsons, and two great-grandsons.
Visitation will be from 4-9 p.m. Thursday at the Reeb Funeral Home, Sylvania, where funeral services will be at 11 a.m. Friday.
The family suggests tributes to Westgate Chapel.
Contact Mark Zaborney at mzaborney@theblade.com or 419-724-6182.
Guidelines: Please keep your comments smart and civil. Don't attack other readers personally, and keep your language decent. Comments that violate these standards, or our privacy statement or visitor's agreement, are subject to being removed and commenters are subject to being banned. To post comments, you must be a registered user on toledoblade.com. To find out more, please visit the FAQ.