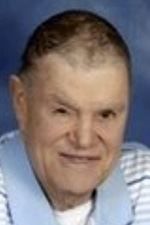 James Elmer Heider
BOWLING GREEN — James Elmer Heider, an inventor, businessman, and retired executive who was a mainstay on football, basketball, and track teams at Waite High School in the early 1950s, died Friday at Wood County Hospital in Bowling Green. He was 81.
He died of an apparent heart failure, his wife of nearly 60 years, Ruth Heider, said.
Mr. Heider was a partner at Willard & Kelsey Solar Group LLC, Perrysburg, and was working on a new patent at the time of his death, his wife said. He was also a partner at the former Bavarian Brewery in Maumee in the 1990s. In his lifetime, he obtained at least 150 patents, Mrs. Heider said.
He retired from Owens-Illinois in the late 1980s after 27 years there, most recently as the technical director. He helped pioneer the development of plastic bottles for beverages and detergents. He later was vice president of development and engineering for Glasstech, Inc., Perrysburg, helping develop new processes for manufacturing glass for automobiles and buildings. He did all this while also pursuing consulting work privately on some of his patents, she said.
While in high school, he at various times played quarterback, fullback, end, center, tackle and linebacker while also handling placekicking and punting duties for the football team. An all-state selection at linebacker, he also led the basketball team in scoring as a senior and competed in track and field. He was inducted into the Waite High School Athletic Hall of Fame in 1972 and into Toledo's City League Athletic Hall of Fame in 1992.
In 1995, he was recognized as a Waite High School Distinguished Alumni.
"His family came first in everything," Mrs. Heider said. "He was a great provider and he was always willing to share and do for others. He was proud of his children and his grandchildren. And he was a man of great love. He showed his love in many ways, not just to his family, but to other people as well."
Added Stephanie Lauwers, his daughter, "My father was the kindest and the most generous person I had the privilege of knowing. He was very supportive of his children and their aspirations."
Mr. Heider was born Jan. 28, 1936 in East Toledo to Elmer and Kathryn Heider.
A National Honor Society member while at Waite High, he graduated in 1954 with an academic scholarship to study at the University of Toledo, from which he obtained a bachelor's degree in mechanical engineering in 1960.
Upon his graduation, Mr. Heider was awarded a $4,000 fellowship to study at Princeton University's plastics program.
Mr. Heider, who had by then worked for about a year in the plastics research and development section of Owens-Illinois general research department, was the first O-I employee chosen by Princeton for the the fellowship. He graduated from Princeton in 1961 with a master's degree in engineering, taking just nine months to complete the program, his wife said.
He married Ruth Matthews in 1958.
They lived in the Crossgates area of South Toledo from the early 1960s until 1988, when they moved to Bowling Green to live in a Victorian house they liked. The property also featured barns where he could store his vintage cars, Mrs. Heider said.
In his free time, Mr. Heider preferred to be with his family and friends.
He enjoyed traveling by train across the country, reading, collecting vintage cars, and discussing politics.
"He was a very strong Republican," his wife said.
Mr. Heider was a founding member of Abiding Word Lutheran Church, Bowling Green.
He was preceded in death by his brother, Jack Heider; and son, Dr. Matthew Heider.
Surviving are his wife; daughters, Kristina Guensche, Stephanie Lauwers, and Laura Slembarski; son, Mark Heider; adopted son, James Calhoun; sisters, Joyce Schafer and Carol Wilson; brothers, Robert and Ronald Heider; 25 grandchildren, and six great-grandchildren.
Visitation will be at 2 p.m. Friday at Dunn Funeral Home, 408 W. Wooster St., Bowling Green, and at 10 a.m. Saturday at Abiding Word Lutheran Church, 17202 Mercer Rd., Bowling Green.
Funeral service will begin at 11 a.m. Saturday at the church. The family suggests tributes to the church.
Contact Mike Sigov at sigov@theblade.com, 419-724-6089, or on Twitter @mikesigovblade.
Guidelines: Please keep your comments smart and civil. Don't attack other readers personally, and keep your language decent. Comments that violate these standards, or our privacy statement or visitor's agreement, are subject to being removed and commenters are subject to being banned. To post comments, you must be a registered user on toledoblade.com. To find out more, please visit the FAQ.