Thomas C. Biebesheimer, a civil engineer whose notable projects included an extension of Alexis Road in the late 1960s and early 1970s, died Jan. 19 in Hospice of Northwest Ohio, South Detroit Avenue. He was 91.
He'd begun to lose blood several days earlier because of an aortic aneurysm, his wife, Corene Stuetzer, said.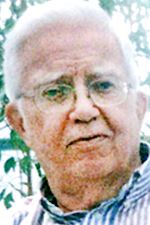 Biebesheimer
Mr. Biebesheimer closed his career as a Sandusky County deputy engineer more than 30 years ago. After the February, 1974, death of then-Engineer Miles C. Newton, Mr. Biebesheimer was named acting engineer by county commissioners.
"He loved math and enjoyed being an engineer," said his son, Craig Biebesheimer. He preferred designing bridges to roads, his son added, but ultimately found satisfaction in "building something and seeing it resolved, seeing it work."
He was a Lucas County deputy engineer from 1947 until 1955, when he resigned to form what became the T.C. Biebesheimer Engineering Co. The firm was hired by Lucas County commissioners in 1966 to draw plans for extending Alexis from Detroit Avenue to Suder Avenue, plus widening the street from Telegraph Road to Detroit.
Complexities included bridges over three railroads, Stickney Avenue, and I-75. More than five years later, his firm and its successor — he'd sold the business in the interim — were still wrangling with county officials over proper payment.
He was born Oct. 8, 1926, in Perrysburg to Bess and William Biebesheimer. The family lived for a time on Front Street, but during the Great Depression moved to South Toledo. Mr. Biebesheimer was a 1944 graduate of Libbey High School and obtained a bachelor of science degree in civil engineering from the University of Toledo.
He liked to sail the Maumee River — and the Caribbean — with his friend Vince DiMaio, a well known boatmaker and sailor who introduced him to the sport.
"He loved outdoor sports," his wife said.
Mr. Biebesheimer kept a meticulous daily accounting of his activities, his wife said, and he stayed current in computer technology. Grandchildren and great-grandchildren entrusted him with managing their investments.
He liked talking to people, his wife said. And he became known for public generosity, such as picking up the bill, his son said.
"Everybody loved going out with T.C., 'cause he would take care of them," his son said.
He was a 50-year Mason and a member of Collingwood Lodge, F&AM.
His marriage to the former Mary Lee Craig ended in divorce.
Surviving are his wife, Corene Stuetzer, whom he married Dec. 19, 1982; son, Craig Biebesheimer; daughters, Debra Lynn Biebesheimer and Elizabeth Landry; stepsons, John and Daniel Stuetzer; brother, John Biebesheimer; 10 grandchildren, and nine great-grandchildren.
At his request, Mr. Biebesheimer's body was donated to the University of Toledo's college of medicine and life sciences, the former Medical College of Ohio.
Memorial services will be from 11 a.m.-2 p.m. Wednesday at the Maumee River Yacht Club, where he lunched with friends every Wednesday for decades.
The family suggests tributes to Boy Scouts of America, Metroparks Toledo, Helping Hands of St. Louis, or a charity of the donor's choice.
Contact Mark Zaborney at mzaborney@theblade.com or 419-724-6182.
Guidelines: Please keep your comments smart and civil. Don't attack other readers personally, and keep your language decent. Comments that violate these standards, or our privacy statement or visitor's agreement, are subject to being removed and commenters are subject to being banned. To post comments, you must be a registered user on toledoblade.com. To find out more, please visit the FAQ.