TIFFIN — The Rev. Dennis A. Schroeder, a onetime Putnam County farm boy who became a Roman Catholic priest and served parishes across northwest Ohio, died Saturday in his Tiffin residence. He was 82.
He had congestive heart failure and was ill the past two weeks, his sister Marilyn Ruhe said.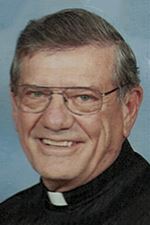 Schroeder
Father Schroeder retired in 2010 as pastor of St. Mary Parish in Clyde, Ohio. He still celebrated Mass at St. Mary as well as St. Joseph Church in Tiffin and Holy Trinity Church in Bucyrus, Ohio, where he also had been pastor. He formerly was a member of the Diocese of Toledo tribunal.
Every Tuesday, he visited the Sisters of St. Francis of Tiffin, of which another of his siblings, Sister Paulette Schroeder, is a member. He shared the sacraments of Reconciliation and Anointing of the Sick, and he celebrated Mass.
"He always prepared for his homilies. We really loved his homilies," Sister Paulette said. "He showed depth and great spirituality. He got freer and freer with us as the years went on. He could joke and wasn't afraid to show his depth."
He was shy, yet enjoyed the fellowship as he shared a meal with the community and took part in the give and take of conversation.
"I always call it the 'university of the table,'" Sister Paulette said.
The only payment he accepted for his services was an extra meal to take home, she said.
He was born Sept. 3, 1935, to Kathryn and Vincent Schroeder, the fourth of what would be 13 children, and grew up in Putnam County's Liberty Township.
"He did his share of chores around the farm," Mrs. Ruhe said.
After eighth grade he left for Pontifical College Josephinum, in Worthington, Ohio, where he received his high school and seminary education. He was ordained a priest in 1961.
"From an early age, it seemed he was inclined toward the priesthood," Mrs. Ruhe said, adding that their mother's influence was strong on their faith.
"We as a family, we prayed together and went to church together," at Holy Family Church, New Cleveland, Ohio, Mrs. Ruhe said.
On a funeral home website, parishioners of churches he served near Grand Rapids, Ohio, and in Rossford left fond reminiscences.
"He loved, despite his introversion, he loved his relationships with people," Sister Paulette said.
"I want to remind people of how humble and gentle he was," Sister Paulette said. "He really knew how to listen. He loved the Mass. He prayed the Mass very intentionally. He did not rush it ever. I always appreciated him for that."
Father Schroeder eagerly spoke with parishioners about Cleveland's professional sports teams and followed every Indians, Browns, and Cavaliers game.
Surviving are his brothers, Mark, Earl, Steve, Vince, and Lou; and sisters, Marilyn Ruhe, Evelyn Milano, Pat Bennett, and Sister Paulette Schroeder.
Visitation will be from 4-8 p.m. Thursday and after 10 a.m. Friday in St. Joseph Church, Tiffin, where funeral services will be at 11 a.m. Friday. Visitation will continue from 4-8 p.m. Friday in Holy Family Church, New Cleveland.
Arrangements are by the Traunero Funeral Home, Tiffin, and Love-Heitmeyer Funeral Home, Ottawa, Ohio.
The family suggests tributes to a charity of the donor's choice.
Contact Mark Zaborney at mzaborney@theblade.com or 419-724-6182.
Guidelines: Please keep your comments smart and civil. Don't attack other readers personally, and keep your language decent. Comments that violate these standards, or our privacy statement or visitor's agreement, are subject to being removed and commenters are subject to being banned. To post comments, you must be a registered user on toledoblade.com. To find out more, please visit the FAQ.