Dave Woolford, who in well-chosen prose brought Blade readers a thorough view of the game, the match, the race during more than 39 years as a staff sports writer, died Friday in his Fort Myers, Fla., home. He was 78.
The cause of death was not yet known, his wife, Sue, said. The last nine years, he underwent chemotherapy for myelodysplastic syndrome, which affects blood cell production.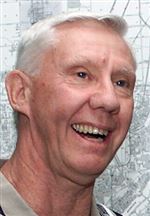 Woolford
BLADE Enlarge
Mr. Woolford, a longtime Maumee resident, covered Mid-American Conference sports at the University of Toledo and Bowling Green State University and then Big Ten football and basketball. He'd been a voter for the Heisman Trophy and coordinated voting in Ohio for that college football honor. But his real love was auto racing.
Mr. Woolford covered auto racing for 36 years at The Blade. He won more than three dozen writing awards and was a former auto racing and motor sports writer of the year. He also belonged to the panel that each year chooses a driver of the year.
"Dave Woolford was one of the original good guys in motor sports journalism," said Bobby Unser, a three-time Indianapolis 500 winner who broke the 200 mph mark at Michigan International Speedway. "He always asked really, really good questions, was a good listener, and had a passion for motor sports. He truly loved racing and the drivers respected him, for sure."
For a 1982 piece about advances that made 200 mph commonplace at the Indy 500, Mr. Woolford wrote, "What was once a race where men drove their cars is now a race where the cars drive the men."
John Robinson Block, Blade publisher and editor-in-chief, said Mr. Woolford "was a gentlemen's sports reporter. I'm proud that he was at The Blade."
Mr. Woolford, hired by The Blade full time in 1964 to cover hockey, retired from the newspaper in April, 2003, after 39 years and four months on the job, Dave Hackenberg calculated in a column about his colleague's departure as the end of an era.
Mr. Woolford "covered virtually every sport at every level through nearly four decades of service. He did it with class, dignity, and professionalism, putting the same effort and attention to detail into his final bylined story as he did his first.
"Football players retire when they lose a step, baseball players when they lose their eye, hockey players when they're out of teeth. Dave Woolford never lost a thing," wrote Mr. Hackenberg, who retired in 2016.
Mr. Woolford took the job seriously, Mr. Hackenberg said Saturday, "but had more fun doing it than just about anybody I've been around. When you walked into work a shift in the office and Woolford was there, you knew you were going to have a good night."
On assignment, he was meticulous, took his time, and "always met deadline," said Dennis Horger, a retired sports department colleague. "I would call him a craftsman as a writer. No one put more effort into a story each day than Dave Woolford."
"Dave was as likable a newspaper guy as ever interviewed a celebrity or a nobody and as ever typed a witty phrase or catchy lead sentence," said Mike Tressler, who recalled that they were Blade sports department rookies together. "Dave was my first and best friend at The Blade."
Covering a beat, day by day, Mr. Woolford got to know the minor league hockey players and the race drivers, and in turn they bared their souls to him, said John Gugger, a former Blade sports columnist.
"He was a tough guy to follow, because he had the rapport with the players and the insight," said Mr. Gugger, his successor on the hockey beat.
He was born Jan. 31, 1940, and adopted a year later by Helen and Roy Woolford. His father was a printer for The Blade and the former Toledo Times and was president of his local of the International Typographical Union.
He was a 1958 graduate of Libbey High School and an inductee of its hall of fame. He received a bachelor's degree from UT, where he was a sports writer and then sports editor of the Collegian. He worked summers in Oregon as a forest firefighter to pay for college.
He was a member of St. Paul's Lutheran Church, Maumee, and Gateway Trinity Lutheran Church, Fort Myers.
Surviving are his wife, the former Susan Steele, whom he married May 23, 1964; sons Wade and Bruce Woolford; daughter, Wendy Howe, and nine grandchildren.
Arrangements are pending at the Maison-Dardenne-Walker Funeral Home, Maumee.
The family suggests tributes to the Leukemia & Lymphoma Society, St. Paul's Lutheran Church, Maumee, or a charity of the donor's choice.
Contact Mark Zaborney at mzaborney@theblade.com or 419-724-6182.
Guidelines: Please keep your comments smart and civil. Don't attack other readers personally, and keep your language decent. Comments that violate these standards, or our privacy statement or visitor's agreement, are subject to being removed and commenters are subject to being banned. To post comments, you must be a registered user on toledoblade.com. To find out more, please visit the FAQ.