Gerard "Jerry" Halak, known for his custom hot rod cars that he designed and painted throughout his life, died Friday in his Ottawa Lake, Mich., home. He was 83.
His daughter, Denise Swy, said cancer caused his death, though he remained active in car painting and design until just before his death.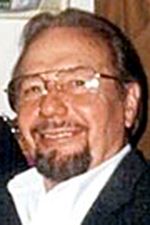 Halak
"He was always up for whatever," Ms. Swy said. "He was adventurous. He was a very curious person."
Mr. Halak was born to Basil and Anna Halak in Toledo on March 23, 1934. He attended Macomber and Woodward high schools before going to barber school. He cut hair with his dad at the family barber shop, eventually changing the Lagrange Street shop's name to "Jerry's Barbershop."
"He liked style, he was always very into that," Ms. Swy said. "Barbering was a very creative outlet for him."
Mr. Halak would park his hot rod cars outside his barbershop, eventually realizing he could make more money and enjoy his time more if he did his car work full-time. So he did, launching a career of car painting and design that spanned the rest of his life.
"He had a real flair for design," Ms. Swy said. "He really liked the idea of the beauty of the car."
He worked for many years with John Cassaubon, who often striped the lines on the car that Mr. Halak would paint. Their shared work prompted a friendship that lasted more than 60 years.
"We tried to make the best of whatever we did," Mr. Cassaubon said of each car they designed. "Car guys seem to gravitate toward each other."
Mr. Halak was a founding member of the Pharaoh's Custom Car and Engine Club of Toledo, which was among the first National Hot Rod Association sanctioned clubs of its type. It took Mr. Halak around the country from car show to car show, taking up much of his time and attention.
"That was his life," Ms. Swy said.
Mr. Halak also taught auto body work at Penta Career Center in the 1970s and 1980s. Students stayed in touch, Ms. Swy said, remembering his patience for his students.
"He loved showing people how to do things," Ms. Swy said. "He was really good with young people,"
He also invested in Valentino's Night Club and opened the Malibu Night Club, which he owned for about 10 years, starting in the early 1990s.
He completed his last car about a month before his death.
"I had the most incredible life," he told Ms. Swy as his health declined.
Mr. Halak is survived by his daughter, Denise Swy; step-daughter, Kerry Jeffries, and four grandchildren.
The family is hosting a life celebration service at Urbanksi Funeral Home, a Life Celebration home, on Tuesday from 4 to 8 p.m., and will receive friends at 9 a.m. Wednesday, before a funeral service at 10 a.m., also at Urbanksi, 5055 Secor Road.
Contact Zack Lemon at zlemon@theblade.com, 419-724-6282, or on Twitter @zack_lemon.
Guidelines: Please keep your comments smart and civil. Don't attack other readers personally, and keep your language decent. Comments that violate these standards, or our privacy statement or visitor's agreement, are subject to being removed and commenters are subject to being banned. To post comments, you must be a registered user on toledoblade.com. To find out more, please visit the FAQ.