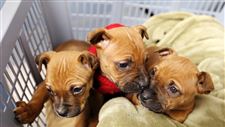 Three puppies found abandoned on Christmas night huddle in a basket at the West Toledo Animal Hospital, Tuesday, December 31, 2013. Jean Keating of the Lucas County Pit Crew took the puppies to the hospital for an examination.
THE BLADE/DAVE ZAPOTOSKY
Enlarge | Buy This Image
In the early morning hours the day after Christmas, Toledo resident Annie Franklin found a surprise on the front porch of her Hamilton Street home.
During the night, someone had dumped a straw-filled plastic tote on her doorstep.
PHOTO GALLERY: Day after Christmas puppies
Ms. Franklin thought she saw a dog in the open tote and called Toledo police. The responding officer found three tiny brown and black "pit bull" or boxer mix puppies inside, two males and one female.
"They were so little," Ms. Franklin said. "I couldn't imagine who would ever do this. I couldn't believe it."
There were no footprints in the snow, so the underweight pups had clearly been outside for hours in the freezing cold with the morning's temperatures measured in the mid-20s.
Police quickly summoned Lucas County Canine Care & Control. Two of the pups were relatively alert, but one of the males was unresponsive.
"His temperature wouldn't register on the thermometer and he was cold to the touch," Julie Lyle, director of the county shelter, said. "He was barely alive."
Dr. Brandy Day, a veterinarian at the West Toledo Animal Hospital, examines the three puppies.
The Blade/Dave Zapotosky
Enlarge | Buy This Image
When stimulation, warm water bottles, blankets, and sugar water failed to bring the puppy around, Ms. Lyle tucked him inside her shirt against her chest to slowly warm him with her body heat.
"It was at least an hour and a half with no movement, then he started moving his head around and shivering," Ms. Lyle said.
After a meal of canned cat food — the only thing the puppy would eat — he slept for several hours.
"When he woke back up, we were worried about brain damage because he was herky-jerky," Ms. Lyle said. "By the end of the night, it was gone."
While his unnamed siblings stayed at the shelter, Ms. Lyle brought the baby dubbed "Pupsicle" home with her each night for extra care.
Ms. Lyle said the county has had just one or two cases of dogs with severe hypothermia since she took over the department in 2010, and certainly none as extreme as Pupsicle's case.
"I come from upper Michigan and we would get it there quite a bit," she said. "It was regularly below zero there, but not much here."
She added there's no way of knowing where the pups, who are estimated at 6 to 7 weeks old, may have come from or who is responsible for dumping them. All three were transferred to the care of the Lucas County Pit Crew on Monday.
"We just couldn't say no," Executive Director Jean Keating said. "When puppies are that young, they've got to get out of there. The pound is no place for 3-pound puppies."
The trio's case is reminiscent of the "Suitcase Six," a litter of six bulldog mix puppies found zipped inside a suitcase in an alley with their mother tied nearby in April, 2012. Toledoan Howard Davis, the dogs' former owner whose name was on the suitcase, pleaded no contest to one count of abandonment and one count of cruelty to companion animals, and was sentenced to four years of probation in June, 2012.
Ms. Keating took the three rescued puppies to the West Toledo Animal Hospital on Tuesday for a checkup.
They have all gained weight, ranging from just more than 4 pounds to about 5¼ pounds.
Two of three puppies found abandoned on Christmas night peer from a basket at the West Toledo Animal Hospital.
The Blade/Dave Zapotosky
Enlarge | Buy This Image
Pupsicle is the smallest of the bunch, but also the feistiest. He growled playfully, chewed on fingers, and spent nearly the entire appointment trying to climb out of the blanket-lined laundry basket the litter had been carried in.
"They've done really well so far," Ms. Keating said. "Everyone is eating like a champ."
The pups' swollen bellies are a testament to the hefty roundworm infestation they all have. They will have to be treated several times with dewormer to rid them of the parasites.
The animal hospital's Dr. Brandy Day said the hypothermia the trio suffered hasn't left any obvious signs of problems. Pupsicle, who Ms. Keating said will be renamed, will be watched especially closely for aftereffects.
"With the way he is now, I'm very hopeful that he won't have any lasting effects from it," Dr. Day said. "Unfortunately, it's one of those things where time will tell, but for now, they're all looking good."
Ms. Keating said the puppies won't be ready for adoption for at least three weeks. Those interested in adopting one of them may send an email to pitcrewapplication@gmail.com.
Contact Alexandra Mester: amester@theblade.com, 419-724-6066, or on Twitter @AlexMesterBlade.
Guidelines: Please keep your comments smart and civil. Don't attack other readers personally, and keep your language decent. Comments that violate these standards, or our privacy statement or visitor's agreement, are subject to being removed and commenters are subject to being banned. To post comments, you must be a registered user on toledoblade.com. To find out more, please visit the FAQ.