The Lucas County Canine Care & Control set several new records in 2017.
The shelter saved three-quarters of the more than 3,500 canines it took in last year, a new all-time high, while also setting new records for the numbers of dogs adopted and reunited with their owners.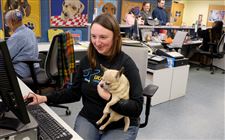 Lucas County Canine Care & Control worker Laura Simmons holds Yaeger, a Chihuahua, who was surrended Friday.
THE BLADE/LORI KING
Enlarge | Buy This Image
"It's made me very happy, and those are goals we'll have every year," Director Richard Stewart said.
The shelter adopted out, reunited with owners, and transferred to rescue 75.66 percent of canines last year, a rise of nearly 3 percent over the 72.74 percent saved in 2016. On the flip side, the number of dogs killed decreased slightly from 29.17 percent in 2016 to 28.55 percent last year.
The combined total percentage is more than 100 because each year begins with dogs already in the shelter.
Mr. Stewart, who took the helm at the shelter last January, said the community's perception of the once-beleaguered shelter has continued to improve. Residents are increasingly aware of the shelter and its services.
"People feel more comfortable with us and have more faith that we'll do the right thing," he said.
Pete Gerken, president of the Lucas County Commissioners, said residents have noticed the shelter's efforts over the years to shake off a troubled past and move forward.
"They're being looked at more as a community resource and less as the dog pound and dog warden," he said.
He credited staff and volunteers for their continuing efforts to improve shelter operations.
"It's taken us a couple years to make this change, but we've made it," he said. "Richard and his staff are certainly professional and have stepped up. The other piece is the number of volunteer hours, which have gone up by about 3,000 from last year."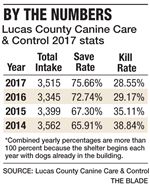 THE BLADE
Enlarge | Buy This Image
The shelter not only adopted out a record 1,034 dogs in 2017, up from 899 the previous year, but reunited 944 others with their owners. That's a jump of nearly 20 percent from the 789 dogs returned to owners in 2016.
"That's a big increase for returns," Mr. Stewart said. "That really shows our staff is working hard to match dogs up and get them back. And it shows the community's awareness of where to look. Social media has helped a lot."
The increases in redemptions and adoptions make up for a notable decrease in the number of dogs transferred to rescues. Transfers dropped 9.6 percent from 620 in 2016 to 534 last year.
Mr. Stewart said all numbers will fluctuate over time and are subject to change based on what dogs come in, what their needs are, and what resources the various rescues have available.
"That's not necessarily a bad thing against the rescue groups in the area," he said. "It just depends on the circumstances. We'll always push and try to find new transfer partners to get more dogs out."
The number of dogs surrendered by their owners has risen as well. The shelter took in 987 owned dogs in 2017, an increase of 15.2 percent from the 857 surrendered in 2016.
Mr. Stewart is unsure why more people are surrendering their canines to the shelter, but he noted the same increased awareness that boosted other numbers may have contributed to this statistic.
"It's another part of people being more aware of us and the services we provide," he said. "But that's definitely one thing I look at wondering what we can do. There are a lot of factors we can't control, but that's something for this next year we'll look at."
Increased awareness and the more positive public opinion of the shelter also may be starting to change the way dogs are taken in. Area residents brought in 1,323 stray dogs last year, 99 more than the 1,224 strays caught by the shelter's canine control officers.
"The community is involved," Mr. Stewart said. "And it's good that they realize we are the place to bring them to to help them find their owners or a new home."
Both Mr. Stewart and Mr. Gerken ackowledged there is still room for improvement. But county officials are happy with the steady advancement the shelter has made in recent years.
"We're very pleased with this report," Mr. Gerken said. "It shows progress, and that's what we're working toward."
Contact Alexandra Mester amester@theblade.com, 419-724-6066, or on Twitter @AlexMesterBlade.
Guidelines: Please keep your comments smart and civil. Don't attack other readers personally, and keep your language decent. Comments that violate these standards, or our privacy statement or visitor's agreement, are subject to being removed and commenters are subject to being banned. To post comments, you must be a registered user on toledoblade.com. To find out more, please visit the FAQ.