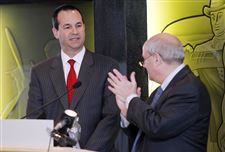 Dean Monske, left, deputy mayor for external affairs, is introduced by David Waterman of the partnership board downtown. Mr. Monske was key during the recent talks with Chinese developers.
THE BLADE/LORI KING
Enlarge | Buy This Image
Dean Monske, the Regional Growth Partnership's new chief executive, said Friday he will push for regional cooperation among local economic development groups as he works to attract investment to the area.
Mr. Monske, Toledo's deputy mayor for external affairs, is to start at the partnership March 14. At a news conference, he said he plans to partner with private businesses, local governments, and such groups as the Toledo-Lucas County Port Authority, the Toledo Regional Chamber of Commerce, and the Northwest Ohio Regional Economic ­Development Association.
"I promise to continue to push an expanding, collaborative way to work throughout the region, and promise to work with anyone that wants to be part of making this region a better place for all of us to live and work," Mr. Monske, 46, said.
As deputy mayor, Mr. Monske is paid $90,000 a year. He declined to discuss how much he will be paid at the privately held partnership.
Mr. Monske played a key role in talks with Chinese investors who plan to buy the city-owned Docks complex for $2.15 million, and he is slated to attend a China trade mission in May with Mayor Mike Bell and local business leaders. He participated in a similar trip in September. It is unclear whether the growth partnership will fund any part of Mr. Monske's trip.
David Waterman, growth partnership chairman, said the organization approached Mr. Monske about the job after Steve Weathers left the post in October. Mr. Weathers is now CEO of the Savannah Economic Development Authority in Georgia.
The partnership's search committee looked at 36 candidates to replace Mr. Weathers. The other finalist was Odis Jones, director of real estate development for the New Jersey Economic Development Authority.
Mr. Waterman said Mr. Monske, a Toledo native who lives in Sylvania Township, has a successful local track record and shares the agency's vision for building the region.
"Dean has all the local knowledge that we highly valued from the beginning," Mr. Waterman said. "He's done an outstanding job in all of his prior roles in economic development."
This will be Mr. Monske's second time at the growth partnership. He was the agency's vice president before he was named to Mr. Bell's Cabinet in late 2009.
Prior to joining the partnership in 2006, he held local development roles, including executive director of the Oregon Economic Development Foundation, regional director for the Ohio Economic Development Association, and president of the northwest Ohio regional economic development group.
Contact Sheena Harrison at: sharrison@theblade.com or 419-724-6103.
Guidelines: Please keep your comments smart and civil. Don't attack other readers personally, and keep your language decent. Comments that violate these standards, or our privacy statement or visitor's agreement, are subject to being removed and commenters are subject to being banned. To post comments, you must be a registered user on toledoblade.com. To find out more, please visit the FAQ.