Richard Jambor of the Maddie & Bella Coffee Co. roasts coffee beans in his garage in Perrysburg.
THE BLADE/JEREMY WADSWORTH
Enlarge | Buy This Image
Sunday afternoon coffee-making in the Jambor household in Perrysburg is a lot more than making a few cups for the family. It involves roasting and packaging beans for their new coffee business.
The family helps stock coffee beans in six stores and Bleak House Coffee in downtown Toledo.
Richard Jambor walks around the large roaster in his garage, filling it with beans and marking down times on his clipboard to help make sure the beans come out the perfect color and not burnt.
His wife, Susan Jambor, is the brewer and coffee tester. She also helps with packaging and promotions. Their son, Rich Jambor, handles the business side of the company with marketing, sales, and strategy.
The family hobby of making and tasting great coffee brewed itself into a business, Maddie and Bella Coffee Co., named after the family's two dogs, in October. The business has increased sales each month since opening, and Rich Jambor said it is on pace to set another record in March. It is selling 80 to 100 pounds of beans a month.
"It took off fast," Rich Jambor said. "We wanted to start small just starting out."
Well, "small" includes having its beans stocked at two Walt Churchill's Market locations, Sautter's Market in Sylvania, the Paula Brown Shop in Toledo, and Angel and Co. and Kazmaier's Market in Perrysburg. The family prides itself on having fresh beans for fresh coffee.
Susan Jambor is the fledgling company's coffee tester.
THE BLADE/JEREMY WADSWORTH
Enlarge | Buy This Image
The family buys most of the beans from a supplier in South Bend, Ind., and roasts the beans on Sundays and make deliveries the next day.
Mrs. Jambor said the family often must roast more beans midweek for some of the grocery stores, which like to be stocked on Fridays for the weekend.
When the Jambors sell their beans, they have to know how the store will use them.
"We have a commitment from our customers that they use it quickly because that is when it tastes best," Rich Jambor said. "We do small orders to make sure they are all fresh weekly."
During the week, the family still runs another business called Perrysburg Residential Sealcoating and Asphalt. Richard Jambor is employed at Diversified Machines, where he works with automotive parts, and Rich Jambor has his own software company, POL Path. Last week, the family went to New York for a coffee trade show to learn more about the trade.
"You gotta drink a lot of coffee when you do all of that," Rich Jambor said, laughing.
Roasting coffee became big in the Jambor house when Richard Jambor tasted a coworker's home-roasted coffee and it tasted much better than what he had been drinking. He bought his own roaster and began making coffee for his extended family.
Richard Jambor is very precise about the color of his beans and making sure they are not burnt "like a lot of the larger producers do to make them more consistent."
"There are three keys to good coffee," he said. "A fresh roast, grinding the beans right before it is brewed, and a high temperature from 195 to 205 degrees. Coffee has a shelf life of a year, but a flavor life of four to six weeks."
The family roasts Ethiopian Yirgacheffe, Bella's Breakfast Blend, Fair Trade Organic Sumatra, Guatemalan Antigua, Brazil Red Icatu, Costa Rican Decaf, and a couple of espresso blends, one made especially for Bleak House Coffee.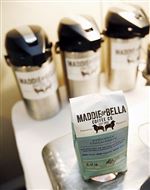 Maddie & Bella Coffee Co. coffee is sold in Perrysburg, Toledo and Sylvania.
THE BLADE/JEREMY WADSWORTH
Enlarge | Buy This Image
"The name is from the farm and region it is from," Richard Jambor said. "You are buying specialty coffee."
Mrs. Jambor compares it to tasting wine: "You have your favorite wine, but it is always fun to try new ones."
One of their roasting blends is Graham's Miracle Blend. A portion of proceeds from every bag sold goes to support Graham's Foundation, which helps parents with premature babies.
Mrs. Jambor will be brewing coffee for a taste test, Put Your Green On, from 10 a.m. to 1 p.m. Saturday at 4935 Keener Rd., Monclova Township. On Sunday, she will be at Sautter's Market for a taste testing from 11 a.m. to 2 p.m.
The family business is looking for the right opportunity to acquire commercial property and move the company out of the garage, but until then it will do just fine, the Jambors said.
"It is easy to sell it, something that tastes great," Rich Jambor said. "It sells itself."
Contact Matt Thompson at: mthompson@theblade.com or 419-356-8786, or on Twitter at @mthompson25.
Guidelines: Please keep your comments smart and civil. Don't attack other readers personally, and keep your language decent. Comments that violate these standards, or our privacy statement or visitor's agreement, are subject to being removed and commenters are subject to being banned. To post comments, you must be a registered user on toledoblade.com. To find out more, please visit the FAQ.