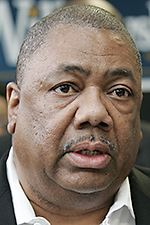 Perryman
THE BLADE/DAVE ZAPOTOSKY
Enlarge | Buy This Image
The Economic Opportunity Planning Association of Greater Toledo has narrowed its search for a new chief executive officer to two finalists, holding interviews with the candidates the day it lost its largest funding source.
The anti-poverty agency held interviews Monday with Stanley Lowe of Pittsburgh and Cheryl Grice of Blacklick, Ohio, the two finalists to replace James Powell, who was fired in January by EOPA's board.
Monday was a day of transition for the agency, as a Denver-based company took over the local Head Start program and its about $13 million budget from EOPA, after the federal government forced EOPA to compete for the first time for its grant.
The loss of the grant pushes EOPA into a time of uncertainty, because Head Start money made up the bulk of its funding. Board chairman the Rev. Donald Perryman said he was looking for a visionary leader as CEO who can help build partnerships between EOPA and other organizations.
"I think we have been isolated for too long and been trying to do things on a solo basis, and that is not the way the world works in the 21st century," Mr. Perryman said. "We need someone who can really come in and change the culture rather quickly."
According to her resume, Ms. Grice most recently has served as director of energy efficiency and empowerment services for Columbus-based IMPACT Community Action, which like EOPA is a community action agency. She has experience there with the Home Energy Assistance Program, a federal program that makes up a significant amount of EOPA's remaining funding. She also has worked, among other places, for the Central Ohio Transit Authority and the city of Baltimore.
Mr. Lowe has nearly three decades of experience with public housing agencies, historic preservation organizations, government, and other agencies. He spent nearly seven years as executive director for the Housing Authority of the city of Pittsburgh, and also recently spent six months leading the Galveston (Texas) Housing Authority. He resigned from that position, according to media reports, as newly elected board members opposed to a mixed-income housing project he developed were about to take office.
Finalists were chosen from a pool of about three dozen applicants. Florida-based firm Gans, Gans and Associates conducted the search, and forwarded six candidates to EOPA's executive search committee, board member Paula Ross said.
That committee then selected four finalists to be interviewed. Of those finalists, Alphonzio Prude of Greater Dayton Premier Management and Martin Lamar of the Atlanta Housing Authority withdrew their names and were not interviewed, Ms. Ross said. Mr. Lamar's resume was not included in those provided to The Blade.
Ms. Ross, who said she was designated by Mr. Perryman to speak about the interview process, said she was impressed by both finalists, and hoped to find a CEO who can help reinvent EOPA.
Applicants held a wide range of experience. Perhaps the oddest applicant was a man who identified himself as George Arveladze, who said he was a former member of the nation of Georgia's parliament, and once served as Georgia's Minister of Economy and president Mikhail Saakashvili's chief of staff.
Interim-CEO Robert Jordan did not apply for the position. He said he plans to return to his previous job as chief financial officer.
What a new CEO will be paid — and where the money will come from — is still undetermined. Ms. Ross said discussions are ongoing about a possible $100,000 grant in federal funds from the city's Department of Neighborhoods to pay the salary. If that grant doesn't happen, EOPA would be forced to scramble to find money to pay its next chief executive.
Ms. Ross said she hoped the executive search committee will make a recommendation for a CEO to the full board at its next meeting on July 15.
Contact Nolan Rosenkrans at: nrosenkrans@theblade.com or 419-724-6086, or on Twitter @NolanRosenkrans.
Guidelines: Please keep your comments smart and civil. Don't attack other readers personally, and keep your language decent. Comments that violate these standards, or our privacy statement or visitor's agreement, are subject to being removed and commenters are subject to being banned. To post comments, you must be a registered user on toledoblade.com. To find out more, please visit the FAQ.