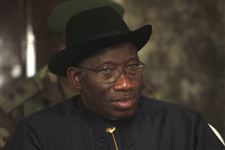 Jonathan
ASSOCIATED PRESS Enlarge
The disarray in Nigeria created by attacks staged by a violent Islamist organization, Boko Haram, bears global attention. The group seeks to overthrow Nigeria's government; most of its attacks are directed at schoolchildren who, in the eyes of Boko Haram, represent anti-Islamic activity that must be stamped out.
Boko Haram has claimed thousands of lives in the African nation since 2009, including at least 74 in recent weeks. A fire the militant group set last month at a boarding school killed 59 children.
The inability of Nigeria's president, Goodluck Jonathan, and his armed forces to subdue Boko Haram is shameful. The country has 500,000 troops, but they have avoided battle with the militants or fled upon encountering them. Senior military officers devote their time to skimming off the country's oil wealth.
The disorder could spread to Nigeria's neighbors — Cameroon, Chad, and Niger — making the problem regional. These countries could provide refuge for Boko Haram forces that are evading Nigerian efforts to control them.
The violence in Nigeria does not justify U.S. military involvement in west Africa. Instead, Mr. Jonathan must use his armed forces more effectively to put Boko Haram out of business, and he must coordinate better with neighboring presidents.
The matter becomes increasingly urgent as the attacks increase. It must be dealt with before it gets any worse.
Guidelines: Please keep your comments smart and civil. Don't attack other readers personally, and keep your language decent. Comments that violate these standards, or our privacy statement or visitor's agreement, are subject to being removed and commenters are subject to being banned. To post comments, you must be a registered user on toledoblade.com. To find out more, please visit the FAQ.