A recent transportation summit sponsored by the Toledo Metropolitan Area Council of Governments put an overdue focus on mass transit, noting its importance to economic development and attracting young people. Roughly 150 area officials — local politicians, municipal administrators, planners, and social service providers — learned about transit success stories in Grand Rapids, Mich., Ann Arbor, and other regions, demonstrating how even smaller markets without commuter rail service can benefit from transit investments.
It can happen here too — but not without far better leadership.
Urban regions nationwide that compete with Toledo for talent and capital are expanding transit to slow sprawl, reduce road congestion, improve air quality, and jump-start millions of dollars in transit-oriented development. In Grand Rapids, a city smaller than Toledo, a new $40 million rapid transit bus line will reduce commute times, raise property values, and give the region an estimated 5-to-1 return on investment in retail stores, housing, and other development.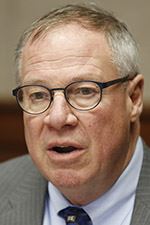 Collins
To build the 9.6-mile Silver Line, Grand Rapids enacted a six-city property tax increase in 2011. That tax leveraged $32 million in federal grants and $8 million in state matching dollars.
As TMACOG updates its regional transportation plan, it should get more aggressive about promoting transit improvements, including a more adequate, fair, and sustainable funding source, such as a regional sales tax.
In public meetings on the 30-year plan, improving mass transit ranked high among transportation needs cited by local residents. This region ranks among the worst U.S. metropolitan areas for having jobs in neighborhoods served by public transit.
The biggest push for transit must come from elected leaders, including Toledo Mayor D. Michael Collins. Toledo will never reap the benefits that other urban regions enjoy unless it fills the leadership void on this issue.
A good place to start would be to ensure that Rossford remains a member of the Toledo Area Regional Transit Authority. Last year, a local group collected enough signatures to put a TARTA-withdrawal question on the ballot. But the petitions missed the deadline for the November election.
That should have been the end of it. Under state law, 2013 was the last year that communities could leave TARTA without the unanimous consent of the authority's other members.
Nevertheless, the Wood County prosecutor's office ruled recently that last year's petition drive met the intent of the law, placing the question of whether Rossford should secede from TARTA on the ballot this year.
TARTA probably will not challenge this ruling, but someone should. Rossford City Council voted last year to stay with TARTA. An outside consultant concluded that Rossford is getting TARTA service at below cost.
A council committee found that contracting with a private provider would cost twice as much. And no local shuttle service could provide the regional connections that Rossford's residents, employers, and employees need.
Rossford's membership in TARTA isn't just about that city. It's about the entire region. Rossford's withdrawal would weaken the system, just as the departures of Perrysburg and Spencer Township from the transit authority have done.
Mayor Collins, whose constituents ride TARTA buses to suburban jobs, should understand this better than anyone else. Improved mass transit is in the best interest of Toledo and the entire region. It's time that he and other local leaders acted accordingly.
Guidelines: Please keep your comments smart and civil. Don't attack other readers personally, and keep your language decent. Comments that violate these standards, or our privacy statement or visitor's agreement, are subject to being removed and commenters are subject to being banned. To post comments, you must be a registered user on toledoblade.com. To find out more, please visit the FAQ.