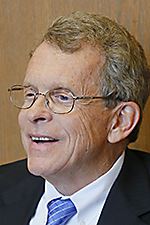 DeWine
THE BLADE/AMY E. VOIGT
Enlarge | Buy This Image
People don't often associate government in Lucas County — at any level — with innovation, excellence, or even basic competence. But an addiction resource unit run by the county Sheriff's Office is getting statewide attention as a new and effective way to battle the state's opioid and heroin epidemic.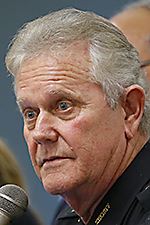 Tharp
THE BLADE/ANDY MORRISON
Enlarge | Buy This Image
Ohio Attorney General Mike DeWine announced Tuesday in Toledo that his office is awarding Lucas County $650,000, including a one-year, $150,000 grant to support the addiction resource unit. The other $500,000 will go for recovery housing for addicts after treatment. Grant money comes from the state's mortgage settlement, which also funded $75 million in demolition projects across Ohio.
Lucas County Sheriff John Tharp started the four-person addiction unit in July. It includes two deputies who work full-time investigating overdoses and working with overdose victims and their families to get people into treatment.
The Oregon Police Department will dedicate one officer to the unit, working three days a week, Mr Tharp said. The Toledo Police Department will also support the new unit.
The state grant will enable the county to hire two advocate/​counselors to work directly with sheriff's deputies as they follow-up with the families of overdose victims. The new unit has at least 60 cases and needs more staff.
Equally important, Mr. DeWine is turning the addiction resource unit into a one-year statewide pilot, with the University of Toledo studying its results. Other law enforcement agencies around the state could then replicate the program.
It can't happen too fast. Heroin-related deaths in the Toledo area more than doubled last year — to 80, from 31 in 2012. Such deaths are on pace nearly to double again this year. Mr. DeWine said statistics for northwest Ohio are similar to those of other regions around the state.
"It's stunning,'' the attorney general told The Blade's editorial page on Tuesday. "This heroin problem is unlike anything we've seen in Ohio because it's so universal. It's as likely to be in Perrysburg as it is in the central city of Toledo.
"It's clear to me that we can't arrest our way out of this problem," he said. "We have to take a more holistic approach."
After holding a dozen town hall meetings across Ohio, Mr. DeWine said two needs were obvious: People with a drug problem needed immediate information about where to get treatment, and they needed a place to recover after treatment. He said he picked Lucas County for the grants because of Mr. Tharp: "You have a very progressive sheriff who came up with the initial idea."
The Lucas County Board of Commissioners should be commended for supporting the initiative from the start. Local 911 dispatchers now notify the sheriff's office of every overdose. Deputies also work with families of addicts who have had trouble with the law, mostly by stealing to support their habits.
The county prosecutor and coroner, and local treatment and prevention agencies including A Renewed Mind and Awake, also work with the addiction resource unit. It's a community-wide effort of which the entire county can be proud.
Until recently, law enforcement agencies treated fatal and nonfatal drug overdoses casually, even callously, as accidents. There was little or no investigation or follow-up.
By getting directly involved with treatment and supporting addicts and their families, the Lucas County Sheriff's Office and its partners are changing how local law enforcement reacts to arguably the state's biggest public health problem. It's a valuable lesson the county is sharing with a state that continues to battle an insidious and deadly epidemic.
Guidelines: Please keep your comments smart and civil. Don't attack other readers personally, and keep your language decent. Comments that violate these standards, or our privacy statement or visitor's agreement, are subject to being removed and commenters are subject to being banned. To post comments, you must be a registered user on toledoblade.com. To find out more, please visit the FAQ.