Few crimes could more clearly brand a man an enemy of the United States and of our way of life than the ones to which Yahya Farook Mohammad pleaded guilty.
Raising money for a terrorist is outrageous enough. But Mohammad also admitted that, while facing terrorism-support charges, he offered to pay to have his judge murdered.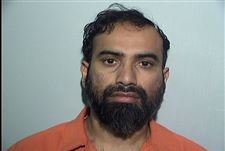 Mohammad
LUCAS COUNTY SHERIFF'S OFFICE Enlarge
That should make every American's blood boil — and especially every Toledoan's: The judge was Jack Zouhary of our own federal district court.
RELATED CONTENT: Deciding a baby should die should be family's decision ■ Government joins fight against opioids ■ More Blade editorials
Mohammad took the deal so he could walk out of prison at around 60, his lawyer said. He's 39 now. The Indian-born Mohammad faces another sanction too: "If I agree to this, you will be removed and never allowed under any circumstances to return," Chief Judge Edmund A. Sargus, Jr., whose court is in Columbus, but who stepped in after Judge Zouhary recused himself, warned him.
Decades in prison and permanent deportation make a serious punishment for someone who went to Ohio State University and whose wife is an American.
But if anything, it's not harsh enough. Attempting to murder, or arrange the murder of, a judge is a singularly outrageous crime.
Americans rely on the law to secure our rights — against other people, and even against the government. And it is through our judges that the law speaks in individual cases. To attack a judge in connection with his role as a judge, therefore, is to attack the law itself.
Yahya Farook Mohammad chose to live in this country. He accepted the protection of our laws. And then he attacked them.
Guidelines: Please keep your comments smart and civil. Don't attack other readers personally, and keep your language decent. Comments that violate these standards, or our privacy statement or visitor's agreement, are subject to being removed and commenters are subject to being banned. To post comments, you must be a registered user on toledoblade.com. To find out more, please visit the FAQ.