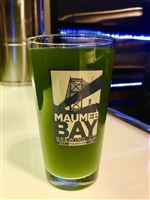 Maumee Bay Brewing Company has introduced a green "Alegae Blooms" beer at the brewery. The new beverage is aimed at raising awareness about the health of Lake Erie and the area's drinking water.
Maumee Bay Brewing Company gets it: Clean water matters.
The oldest and largest brewer in Toledo released a new beer called Alegae Blooms on Nov. 30. The sour double IPA, brewed with green tea matcha powder and kiwi, resembles the bright-green algae slime that polluted Toledo's water supply in August, 2014, then returned with a vengeance this summer. Maumee Bay released its newest recipe to raise awareness about the health of Lake Erie and the area's drinking water.
And the idea worked, because the release party resulted in a full bar of customers who got a clean water lesson from members of the Ohio Environmental Council. The first batch of Alegae Blooms sold out in a little more than two hours. It will be on tap again after the first of the year, keeping the lake's health in the spotlight.

BEHIND THE EDITORIAL: Green beer clever ploy for algae awareness
"For us, it's important because water is essentially our main ingredient for everything we do," brewer Chris Clarke said. "We can't brew beer, can't wash tanks, can't do anything without clean water."
Can we get an amen from the bar?
Much of the attention regarding Lake Erie has been focused on the danger to the region's drinking water from toxic algal blooms or the effect that Asian carp could have on the lake's lucrative sport-fishing industry. But the event at Maumee Bay Brewing Company highlighted how the prosperity of the region's businesses are intertwined with Lake Erie. The lake's health is crucial to a vibrant economy.
The opioid epidemic and the marked decline of Lake Erie will be the two stains on Ohio Gov. John Kasich's legacy when his term ends next year. He continues to wrongly insist that the state can handle the algae crisis without federal help. His administration believes that phosphorous loads being released into the lake because of fertilizer and manure runoff can be reduced through voluntary compliance from farmers.
He is wrong, and his plan has not come close to working.
Click here to view more Blade editorials
Recently, the International Joint Commission urged Mr. Kasich to lobby for Lake Erie to be declared impaired. Mayor Paula Hicks-Hudson also seeks an impairment designation, as does Mayor-elect Wade Kapszukiewicz.
Creative efforts like those of Maumee Bay Brewing Company will keep the pressure on Mr. Kasich to finally act.
Guidelines: Please keep your comments smart and civil. Don't attack other readers personally, and keep your language decent. Comments that violate these standards, or our privacy statement or visitor's agreement, are subject to being removed and commenters are subject to being banned. To post comments, you must be a registered user on toledoblade.com. To find out more, please visit the FAQ.