Dennis Kucinich came to Tony Packo's for the Toledo edition of his big announcement: He is running for the Democratic nomination for governor of Ohio.
He stood in the restaurant mostly alone, save for the news media and a woman from the legalize-marijuana movement in Michigan.
It is not unusual for Mr. Kucinich to stand alone.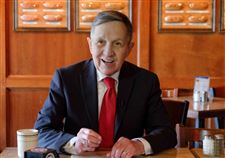 Democratic candidate for governor Dennis Kucinich makes a campaign stop at Tony Packo's Cafe in East Toledo.
The Blade/Jetta Fraser
Enlarge | Buy This Image
Click here to view more Blade editorials | Check out the Behind The Editorial series
Independence, political courage, and policy enthusiasm are qualities Mr. Kucinich has in abundance. That makes him a lonely, but somewhat inspiring figure.
He entered the race for governor of Ohio in a swing around the state that ended on Friday in Akron with him announcing his choice of Tara Samples as his running mate. Ms. Samples is an Akron City council member, representing a mostly poor central city district.
Mr. Kucinich bowed out of politics in 2013 after losing a fight to remain in Congress after the Republican-controlled Ohio General Assembly cut up his district and threw him into a political cage-match with Toledo's Marcy Kaptur.
But the totally unexpected political dynamics of 2016 have lured Mr. Kucinich back into politics because he sees an opening that fits his skill set. He saw the appeal that Democratic Socialist Bernie Sanders aroused in his campaign against Hillary Clinton for the nomination.
Mr. Kucinich saw as well the independent spirit that animated the Donald Trump campaign. Mr. Kucinich has that same streak of independence and he thinks he has solutions that cross ideological boundaries.
Kucinich's campaign is a straightforward one without window-dressing. It's policy-rich. There aren't too many obfuscations and buzzwords. His campaign theme is "Power to We the People."
"What I intend to do in reaching out the people of Ohio is to make the state government subject to the power of we the people, to establish the principle of economic justice and prosperity and opportunity as operating principles of state government and to rebuilding Ohio, not just to build the infrastructure but to build people hope and confidence in government," he said last week.
The goals of a Kucinich administration, as spelled out in his news conference at Packo's, are to establish affordable health care, restrict toxic agricultural runoff into Lake Erie, restore local government funds to city and county governments, and stop the distribution of education dollars to for-profit charter schools.
A Kucinich administration would rebuild Ohio, under what Mr. Kucinich wants to call the "Real Deal." There's no dollar amount yet, but it applies to roads, bridges, water and sewer systems, parks and recreation areas.
Can Mr. Kucinich launch a Sanders-Trump style outsider campaign — one that ultimately captures the Ohio Democratic Party and the governor's mansion? We will know in May.
To win he needs an issue that really connects, significant campaign funding, and an Army of volunteers. And, in a five-person race, he will need to bring out his voters in Cleveland.
Follow @BladeOpinion on Twitter.
Guidelines: Please keep your comments smart and civil. Don't attack other readers personally, and keep your language decent. Comments that violate these standards, or our privacy statement or visitor's agreement, are subject to being removed and commenters are subject to being banned. To post comments, you must be a registered user on toledoblade.com. To find out more, please visit the FAQ.