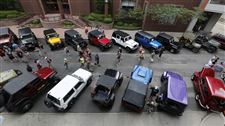 As many as 60,000 Jeep fans are expected to turn out for this year's Jeep Fest in Toledo.
The Blade
Enlarge | Buy This Image
Toledo built Jeep. And Jeep built Toledo.
When the city celebrates the second Jeep Fest this weekend — with about 60,000 of its closest Jeep aficionado friends — it is worth remembering what makes the connection between Toledo and its iconic car brand so special.
Long before Jeep hit the road, Toledo was home to signature industries defined by their Toledo-ness. Edward Drummond Libbey brought his glass company to Toledo in 1888 and launched the Glass City — a place full of entrepreneurs and proud men and women contributing to thriving industry that grew the region.
Jeep was the next generation of industry to bring Toledo pride. Since the first military-style versions of Jeep appeared in 1941, you can't see a Jeep without thinking Toledo. They're from here, they're made here, they're loved here like nowhere else.
Click here to read more Blade editorials
Toledo has had to fight for Jeep more than once. In the late 1980s, speculation that Chrysler would move Jeep production once labor contracts with workers here expired prompted an all-out Keep Jeep campaign to keep the company here.
In 2014, a substantial redesign of the Jeep Wrangler again seemed to threatened to move production out of Toledo. Then-Fiat Chrysler CEO Sergio Marchionne said the company may have to move the beloved brand somewhere where it could easily produce more of the popular vehicles.
The city sprang into action once again, offering an incentives package to Fiat Chryster to keep Jeep. In the end, Toledo kept Wrangler and got a promise the city would be home to new models in coming years. That effort required the commitment of two Toledo mayoral administrations, the labor unions, and leaders from nearly every other sector of the community.
It will always be that type of all-in effort that gets Toledo what it needs. And right now, Toledo needs plenty. We need better Toledo Public Schools, better and safer neighborhoods for everyone, better streets, and better public transportation.
The Toledo region is experiencing the blossoming of what could be a full-bloom revitalization. To experience the full benefit of this, every element of the region's community has to pull toward the goal together.
Toledo is a city with a glorious tradition of pouring its soul into signature brands that we can point to with pride: That's made in Toledo. It's a place with innovation and hard work in its DNA.
The next generation of Toledo can enjoy the same pride of place and good quality of life as their parents and grandparents. We just need to build it together.
Guidelines: Please keep your comments smart and civil. Don't attack other readers personally, and keep your language decent. Comments that violate these standards, or our privacy statement or visitor's agreement, are subject to being removed and commenters are subject to being banned. To post comments, you must be a registered user on toledoblade.com. To find out more, please visit the FAQ.