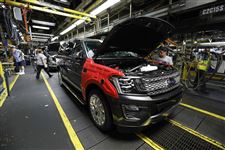 U.S. Sen. Sherrod Brown has proposed a federal pay out to each buyer of a U.S.-produced car.
GETTY IMAGES/BILL PUGLIANO Enlarge
U.S. Sen. Sherrod Brown (D., Ohio) has come up with a solid proposal to support the U.S. auto industry.
Mr. Brown's bill, the "American Cars, American Jobs Act," has two components: First, it would provide a $3,500-per-car reimbursement to the buyers of American-made cars. Second, it would revoke a tax cut on profits earned on vehicles whose production has been moved overseas.
Click here to view more Blade editorials

The second should be a relatively easy sell. Why should the taxpayers subsidize the export of U.S. jobs?
The reimbursement — the cash reward for buying American from the government — will be a harder sell.
Mr. Brown pitches his $3,500 subsidy as a two-year program of up to $3 billion, which ends at two years or when the money runs out, whichever happens first.
Mr. Brown rebuts accusations of engaging in the same state-sponsored subsidizing that China engages in — which is essentially illegal under World Trade Organization rules. He contends the deduction benefits the consumer, not the dealer or the manufacturer, that the program is temporary, and that it's a drop in the bucket compared to what China does.
Well, $3,500 is a lot of money, per buyer, and that figure might have to be reduced to $1,000 or $500, or turned into a tax credit as was done to encourage purchase of hybrid and electric cars under President Barack Obama, to gain widespread congressional support. But Mr. Brown should try, and try hard, to build a coalition around this proposal. Press conferences alone will not save or create jobs in our country.
Indeed, since the bill would put America and American workers first, it should appeal to the president and his economic advisers. Mr. Brown should seek their support.
Under the proposal, at least 70 cars, including all those made in Ohio, would qualify. Cars would be eligible if 45 percent of the content is made in the U.S. or Canada and final assembly of the vehicle is done in the U.S.
Mr. Brown, who is running for re-election, says he became upset that General Motors plans to build the new Chevy Blazer in Mexico while it has eliminated the second shift on Chevy Cruzes built at GM's plant in Lordstown, Ohio. He's right to be upset.
Exporting good U.S. jobs to underpaid citizens of Mexico is GM's prerogative, but it shouldn't be done with a tax incentive from the U.S. government.
As a member of the minority party in the Senate, Mr. Brown has limited influence. Passing even a good bill is tough for a senator in the minority. But it can be done.
In the age of Trump and economic nationalism, Mr. Brown can surely find some Republican allies in the Senate, starting with his Ohio colleague Rob Portman, and moving on to fellow senators and congressmen from Indiana, Tennessee, Kentucky, and Alabama — states where many cars are built.
Given the time it takes to turn an idea like this into law, it is unlikely that Mr. Brown's bill would be effective in stopping GM's plans for making the Blazer in Mexico.
But a check to buyers from the U.S. government for buying an car made in the states would definitely boost sales of U.S.-made cars, probably including the Cruze.
America needs a robust manufacturing sector, not only to remain an economic giant, but as a matter of national security. And we know from the near economic disaster of 2008, that cars and steel are the backbone of the manufacturing sector.
How many Americans consider American auto workers when they decide to buy a car?
Probably not enough.
How many Americans will pay a little more for a product they want in order to support their neighbors — their fellow Americans?
Maybe more than we think.
A modest incentive to "buy U.S.A." cannot hurt.
Rewarding consumers who support American manufacturing is patriotic and good public policy.
Guidelines: Please keep your comments smart and civil. Don't attack other readers personally, and keep your language decent. Comments that violate these standards, or our privacy statement or visitor's agreement, are subject to being removed and commenters are subject to being banned. To post comments, you must be a registered user on toledoblade.com. To find out more, please visit the FAQ.