Terrance Allen, 12, tries to separate rings during a magic show at the James C. Caldwell Center. The center is the site of a School Safe Haven program that offers snacks and activities including help with homework, cooking lessons, financial education, and basics such as manners and etiquette.
The Blade/Lori King
Enlarge | Buy This Image
Four days a week, 50 children in kindergarten through eighth grade find a safe haven at the James C. Caldwell Center.
When school lets out, they go to the center where they get help and encouragement to do their homework, have a snack, take part in art or cooking lessons, listen to speakers, and take field trips.
Johnathan Nichols, who coordinates the School Safe Haven program, is seeing a difference after just a few months.
"With some of the kids, it's going to take a little bit longer, but most you can tell their attitudes have improved," he said. "They're being more respectful. They're wanting to do their homework whereas at the beginning it was a struggle."
At 4 p.m. today, city and school officials are gathering at the Caldwell Center, 3201 Stickney Ave., to officially open the School Safe Haven program as well as the Quantum Opportunities program, which does many of the same things with a group of Woodward High School students. Both programs are funded through the Milton S. Eisenhower Foundation in Washington.
The goal: to help young people from poor neighborhoods stay in school and out of trouble.
Alan Curtis, president and chief executive officer of the foundation, said his organization is in the midst of a three-year funding cycle for 20 such programs in 14 cities, including the two in Toledo.
Funding -- about $108,000 a year for the Safe Haven program and $136,000 for Quantum Opportunities -- comes primarily from the U.S. Department of Justice's Office of Juvenile Justice and Delinquency Prevention.
Mr. Curtis said mentoring plays an important part. In the Safe Haven program, a Toledo police officer works as a mentor to the children in addition to civilian mentors.
"This program tries to change the lives of individual kids by trying to get them to do better in school and get into less trouble," Mr. Curtis said. "At the same time, it tries to improve the community by reducing the crime rate and creating better relations between police and residents."
The Quantum program helps bring high school students up to grade level in such key subjects as math, reading, and science through an online learning program and assistance from an adult mentor, Mr. Curtis said.
Students also take part in leadership and personal development activities and are encouraged to get involved with extracurricular activities and volunteer work.
Jessica Dillon, coordinator of the Quantum program, said the program began in December, 2008, with 26 freshmen from Woodward High School. Eight have moved out of the district, but 18 students, who are now juniors, remain in the program. It will continue through their senior year. Staff members work with students on career planning, job-seeking skills, banking and finances, and basic such as manners and etiquette.
"I've seen a lot of growth with the students in their personal development, a lot more maturity," she said. "Their grades are doing better. They're starting to take things more seriously. When the kids started coming they had a lot of social conduct issues with authority, with being out in public, with not speaking properly. I've seen that come a long way."
Mr. Curtis said that, in a word, the programs work: "Young people involved in the programs do better in school, get in less trouble, are more likely to graduate, and more likely to go on to postsecondary schools."
Ongoing evaluation is key.
"We carefully evaluate the programs in every new location," he said. "We compare kids who are in the program with similar kids who are not in the program. Evaluation is important because it provides local managers with evidence every 12 months of whether they're on course."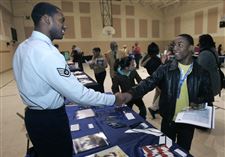 Air Force recruiter Patrick Jefferson shakes hands with Devante Rice, 18, during an after-school college fair at the James C. Caldwell Center in North Toledo.
The Blade/Lori King
Enlarge | Buy This Image
According to its Web site, the nonprofit Eisenhower Foundation was created in the aftermath of the Kerner Riot Commission and the National Violence Commission to "identify, fund, evaluate, and build the capacities of and replicate multiple solution ventures for the inner city, the truly disadvantaged, children, youth, and families."
Among the officials expected at today's event are James Caldwell, president and chief executive officer of the Caldwell Center, U.S. Rep. Marcy Kaptur (D., Toledo), Police Chief Mike Navarre, Councilman Paula Hicks-Hudson, Toledo Public Schools Superintendent Jerome Pecko, and Toledo Regional Chamber of Commerce President Mark V'Soske. The Caldwell Center plans to hold a college fair after the 4 p.m. event. A magic show is planned for younger children.
Contact Jennifer Feehan at: jfeehan@theblade.com or 419-724-6129.
Guidelines: Please keep your comments smart and civil. Don't attack other readers personally, and keep your language decent. Comments that violate these standards, or our privacy statement or visitor's agreement, are subject to being removed and commenters are subject to being banned. To post comments, you must be a registered user on toledoblade.com. To find out more, please visit the FAQ.