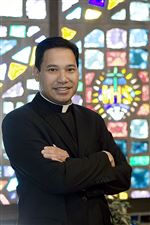 The Rev. Joaquin O. Martinez, president of St. John's Jesuit High School and Academy, is leaving the institution June 30.
Rob Chudzinski isn't the only member of the St. John's Jesuit family who's recently beat out the competition for a sought-after spot.
The Rev. Joaquin O. Martinez, president of St. John's Jesuit High School and Academy, was awarded a fellowship to a school leader development program at Columbia University's Klingstein Center for Independent School Leadership.
No, it's not exactly the head coaching gig for the Cleveland Browns which Mr. Chudzinski earned, but the 2013 Heads of Schools two-week program is one of the few that caters to private school leaders, and heads of schools from around the world try to get in.
"The program," Father Martinez said, "is really kind of the top program for heads of schools around the world."
Father Martinez will spend Jan. 28 through Feb. 7 at the New York City campus, learning about enrollment trends, new issues in education, and what colleges are expecting from high school graduates.
Most training programs and education schools focus on public education, Father Martinez said, since the vast majority of American students attend public schools. While private and public education are similar in many ways, heads of private schools have unique duties that superintendents don't. For instance, Father Martinez doesn't have to worry about state funding debates or property tax levy campaigns, but he does have to think about private donors and alumni for fund-raising.
The Columbia program, where all 20 participants are on fellowship, gears study toward their particular interests. Father Martinez said he plans to focus on how to develop relationships between a school president and its board of trustees. How to build those relationships isn't something educators are usually taught in school.
Whatever he learns at Columbia, Father Martinez will have to impart that knowledge to his St. John's Jesuit staff quickly for them to benefit. Father Martinez, who joined the school in 2008, is leaving the institution on June 30 for another, yet to be determined, assignment within the Jesuit order.
Contact Nolan Rosenkrans at:
nrosenkrans@theblade.com
or 419-724-6086.
Guidelines: Please keep your comments smart and civil. Don't attack other readers personally, and keep your language decent. Comments that violate these standards, or our privacy statement or visitor's agreement, are subject to being removed and commenters are subject to being banned. To post comments, you must be a registered user on toledoblade.com. To find out more, please visit the FAQ.