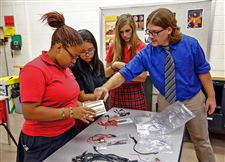 Eric Sieja speaks with, from left, juniors Sam Ferrell, Bonnie Jiang, and Sam Perry, right, while explaining the basics in electrical engineering at Cardinal Stritch High School in Oregon.
THE BLADE/ANDY MORRISON
Enlarge | Buy This Image
Officials at Cardinal Stritch High School are reporting strong enrollment numbers for the new school year and attribute them to the Oregon school's intensified emphasis on math and sciences.
The small Catholic school's enrollment has grown steadily from 243 two years ago to to 251 last year to 265 students in this academic year, spokesman Ryan Hehr said.
The growth may seem modest, but it brings Stritch to 90 percent of capacity, said the Rev. Eric Schild, president of St. Kateri Catholic Schools, which includes the high school and the affiliated St. Kateri Catholic Academy grade school on the same campus.
"This is a big step in the right direction not only for Stritch Catholic but for Catholic schools as a whole," Father Schild said. "While many Catholic institutions are seeing a decrease in the number of students who attend, we are showing there is still very much the possibility Catholic schools can grow."
Father Schild attributed the enrollment surge to the school's STEMM initiative, which was adopted in 2011. STEMM is an acronym for science, technology, engineering, math, and medicine.
In a survey of the school's current sophomores, 70 percent of students said they came to Stritch because of the STEMM program, Father Schild said, adding that a third of Stritch's enrollment is non-Catholic.
The survey was taken last year, when the students were freshmen. Of the 81 members the class then had, 79 have continued at Stritch for their sophomore years, according to Kevin Parkins, Kateri's vice president of advancement.
Stritch announced its STEMM initiative two years ago, emphasizing that it would focus on math and science classes. This year the school began the medical part of the program — specifically, training in biology and anatomy as they relate to medicine, Mr. Parkins said.
The math aspect of the program has been at Stritch all along, he noted: "We're not changing the calculus courses."
A nonprofit called Project Lead the Way designed the curriculum. Other area high schools offering all or part of the curriculum include Toledo Technology Academy, Horizon Technology Academy Toledo, and Whitmer High School, according to the nonprofit's Web site.
Stritch and St. Kateri have a total enrollment of 565. Eighty-two of their students attend using public vouchers, according to the Ohio Department of Education. Tuition at Stritch and St. Kateri are, respectively, $8,350 and $4,500. Mr. Hehr said the schools provided $1.1 million in financial aid last academic year.
Guidelines: Please keep your comments smart and civil. Don't attack other readers personally, and keep your language decent. Comments that violate these standards, or our privacy statement or visitor's agreement, are subject to being removed and commenters are subject to being banned. To post comments, you must be a registered user on toledoblade.com. To find out more, please visit the FAQ.