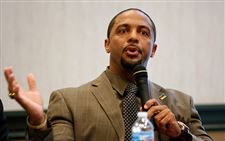 Romules Durant
The Blade/Dave Zapotosky
Enlarge | Buy This Image
What was once a local battle over Head Start gave way Wednesday to a collaborative effort to return the federal grant to local control.
The Toledo Board of Education signed on Wednesday to a joint bid with other community agencies for the local Head Start grant. Under the proposed arrangement, Toledo Public Schools would be the lead grantee, with two delegate agencies and numerous partners working together.
Dozens of officials from community agencies gathered at the Main Library downtown to announce the partnership, which members hope will win a more than $12 million grant to run the early childhood education program, which would serve 2,400 children.
TPS Superintendent Romules Durant said the collaboration was a watershed moment for the city, with organizations deciding they would set aside differences and work together for a common goal.
"We are setting the tone for Toledo," Mr. Durant said.
A year ago, a joint Head Start bid seemed unlikely. For decades, the federally funded program was administered by the Economic Opportunity Planning Association of Greater Toledo. But the grant was one of dozens the U.S. Department of Health and Human Services initially put up for competition in 2011. When TPS announced it would submit its own bid, sniping and competition between the district and the Economic Opportunity Planning Association flared, and attempts to mend relations between the pair failed.
Both submitted their own bids during that competition, but neither was selected. A Denver-based firm took over the program in Lucas County on July 1 and will run Head Start until HHS selects a grant winner in a fresh competition announced earlier this year.
Several community leaders had advocated for a collaborative bid to bring the grant back under local control, combining the efforts of numerous Toledo agencies. The effort was led by the Toledo Community Foundation, which hired a facilitator to assess needs, mediate disputes, and develop a bid arrangement over recent weeks.
Under the arrangement, TPS would be the lead agency, and delegate agencies would be the Lucas County Family Council and the WSOS community action agency, which administers Head Start and Early Head Start in Wood, Sandusky, Seneca, and Ottawa counties.
The federal government announced in late August that Toledo would be part of a national pilot initiative, expanding its local Head Start program to offer services for children from birth through age 5. That announcement also extended the deadline to apply for the grant to Dec. 2.
Toledo Community Foundation President Keith Burwell said the groups stopped worrying about what they could gain out of a bid, and instead focused on what was best for children. He said the city has come a long way from having bids rejected, to being up for a pilot program that will be in only a handful of cities.
"That's a huge jump," Mr. Burwell said. "They should be proud."
During the previous bid process, leaders with the Economic Opportunity Planning Association had expressed unwillingness to a bid that excluded them from a lead or prominent role in Head Start. Now, it appears the planning association would accept a smaller role, though Mr. Durant emphasized that the agency runs several programs — such as inmate rehabilitation and fatherhood support — that would be integral to the bid.
Stanley Lowe, the the planning association's chief executive officer, said that since the bid is being written, the agency's role in a possible program is unclear. But he and the organization are committed to the city for the long run, and plan to rebuild the agency to become "as strong as ever," he said.
Robert Torres, a local Hispanic leader, said he was hopeful the Hispanic community also would have a role in the process.
TPS would coordinate a citywide Head Start program in Toledo. The Family Council would be in charge of birth-to-age-3 programming; WSOS would handle efforts in outlying Lucas County communities.
The collaborative included TPS, WSOS, Family Council, the YMCA and JCC of Greater Toledo, the Educational Service Center of Lake Erie West, and the planning association. Mr. Durant said all would have roles in the grant, and there would be more partnerships.
For instance, Mercy Health Partners would work with the Family Council in some of the family health elements of program, council Executive Director David Kontur said.
Contact Nolan Rosenkrans at: nrosenkrans@theblade.com or 419-724-6086, or on Twitter @NolanRosenkrans.
Guidelines: Please keep your comments smart and civil. Don't attack other readers personally, and keep your language decent. Comments that violate these standards, or our privacy statement or visitor's agreement, are subject to being removed and commenters are subject to being banned. To post comments, you must be a registered user on toledoblade.com. To find out more, please visit the FAQ.