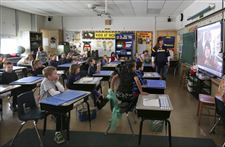 Julie Michaelis, standing at right, and her students speak with Raphael Flath-Everhard, using Skype. The Web cam technology allows the second-grade student to stay connected to his Monac Elementary class.
The Blade/Jetta Fraser
Enlarge | Buy This Image
Monac Elementary School is rallying for one of its own.
Raphael, with grandmother Janet Everhard, is holding his own.
Raphael Flath-Everhard, a second grader, is fighting for his life with a rare bone cancer called Ewing's sarcoma.
The 7-year-old was diagnosed in December and has been undergoing chemotherapy at the University of Michigan C.S. Mott Children's Hospital in Ann Arbor.
On Friday, the school in the Washington Local district will hold a spaghetti dinner and auction fund-raiser in the gym from 5:30 to 7:30 p.m. to help the boy's family handle expenses not covered by medical insurance.
"The kids have been great" in their support of Raphael, said William Magginis, Monac's principal. "We always tell them we want to help other people."
The Monac students have raised a little over $1,500.
Raphael, known as "Rafi," is holding his own, but undergoing a rigorous course of chemotherapy said his father, Eric Everhard.
"He's in really good spirits," Mr. Everhard said.
The school support has made a big difference to the family, said Vic Flath, Rafi's grandfather, who noted that the district sends a teacher to the house to bring Rafi up to speed on his studies. Via Skype, Rafi also can stay in touch with his Monac class. "I can't tell you how wonderful Washington Local and the staff at Monac have been," Mr. Flath said.
Blessed Sacrament and Christ the King parishes have distributed flyers with updates on Rafi's condition as well, Mr. Flath said. When not at the hospital, Rafi has been living with his grandparents to reduce the chance of infection.
Rafi's mother, Joanne Flath-Everhard, is a registered nurse who quit her job to be with her son, who also must undergo radiation therapy. Rafi is doing well, his grandfather said.
"We can tell he's better. He was in pain, but that's gone," Mr. Flath said. "When a doctor touches his leg and says, 'How does it feel,' he laughs. It tickles."
Guidelines: Please keep your comments smart and civil. Don't attack other readers personally, and keep your language decent. Comments that violate these standards, or our privacy statement or visitor's agreement, are subject to being removed and commenters are subject to being banned. To post comments, you must be a registered user on toledoblade.com. To find out more, please visit the FAQ.