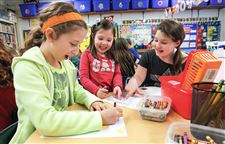 Fourth grader Veronica Steinman, left, kindergartner Carrigan Kunz, and fourth grader Madison Samples work on food reviews at Douglas Road Elementary in Lambertville.
THE BLADE/LORI KING
Enlarge | Buy This Image
LAMBERTVILLE — Quarter Pounders and Chicken McNuggets may not be fine cuisine, but they made good writing material for some students at Douglas Road Elementary School last week.
Teacher Nicole Hite gave her fourth graders a two-part assignment: sit down in class to a repast from McDonald's, then write a review of the meal. Her colleague, Jeanne Kearney, had her kindergartners do the same, and the two classes briefly shared their written opinions with each other.
The meal was intended as a motivator, but the youngsters were expected to think critically. Ms. Hite even had a template for her students to follow as they drafted their reviews: opening, reasons, examples, and opinion.
The critiques were not what the late, famous food journalist and critic Craig Claiborne might have written, but they made the students think, and required work, which is what Ms. Hite was looking for. She even told them about the Michelin Guide and its rating system, but didn't require them to use it.
"This is opinion writing. They did an excellent job," she said.
The reviews themselves were overwhelmingly favorable, with the notable exception of Karli Guenther's. The 10-year-old found the French fries' crispiness not to her liking, so "I recommend you cook them longer ... " she wrote.
"But I think McDonald's was OK," she said later. "I do want to eat healthier."
Using the Michelin rating system, she gave her meal one star out of a possible three.
Seattle Landis, 9, had a distinctly different experience with her lunch from the Golden Arches, and she explained it in detail.
"My opinion is that McDonald's is delicious," she wrote. "I ordered the cheeseburger. It was warm and had everything I wanted. It was a little small, but that's OK. It was almost as good as a brownie. In conclusion, the food was pretty good."
Sarah Kay, a student teacher from Siena Heights University assigned to Ms. Hite, said she was impressed with the food-writing exercise, but not surprised that it went so well. That's because Ms. Hite was her own teacher in the third and fourth grades.
Guidelines: Please keep your comments smart and civil. Don't attack other readers personally, and keep your language decent. Comments that violate these standards, or our privacy statement or visitor's agreement, are subject to being removed and commenters are subject to being banned. To post comments, you must be a registered user on toledoblade.com. To find out more, please visit the FAQ.