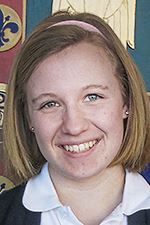 Gardner
Two Notre Dame Academy students won first-place honors at the Ohio High School Speech League State Tournament, and one of the students qualified separately for the national tournament.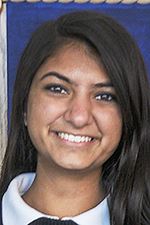 Ajmera
Sarah Gardner, a 17-year-old junior, is the state champion in original oratory, one of 13 categories in the state tournament held earlier this month in Wooster, Ohio. She previously qualified to participate in the National Speech & Debate Tournament held in June in Kansas.
Nikita Ajmera, an 18-year-old senior, won the state title in the impromptu speaking category.
Thirty-two students from the academy qualified for the state tournament. As a school, Notre Dame placed seventh out of dozens of participating schools from across Ohio.
Head speech coach Trish Sanders said speech and debate teach skills students can use in college and during their careers.
"Whatever our children do in the world, they are going to have to present themselves," she said. "Speech and debate give the kids a polish that they do not get anywhere else."
Sarah revised and perfected the 10-minute speech she wrote over the last several months. The original oratory category challenges students to give a speech that takes an idea from a personal to a universal experience, Ms. Sanders said.
Her speech is about having a twin brother and the importance of family. She'll get a chance to give the speech again when she competes at the national contest.
Improving her speech skills provided a big confidence boost, she said, and seeing how well students perform at competitions will contradict some adults' perceptions that young people don't know how to communicate.
Miss Ajmera said she was drawn to speech in part because she enjoys performing. The impromptu speaking category presents a unique challenge to competitors; they have just a few minutes to craft a five-minute speech based on quotations they receive, Ms. Sanders said.
"The thing I love about impromptu is every time it's different," Miss Ajmera said. "I love being able to change it up, to be spontaneous."
Sylvania Southview High School students Keith Dona and Alexander Ulrey placed second in the duo-interpretation category at the state final and qualified for the national tournament, as did Southview student Yuran Chen, who placed second in the student congress category at the state level.
Another Southview student, Eric Zhu, qualified as a second alternate to the national tournament.
Sylvania Northview High School students Jason Kahn and Andrew Bennett qualified for the national tournament, as did Northview's Manasa Geeta Rao as a first alternate.
Wauseon High School student Brenden Kost finished sixth in the international extemporaneous speaking category at the state final and qualified for the national competition along with Wauseon students Motoki Maxted, Clarissa Johnson, and Breanna Demaline.
Contact Vanessa McCray at: vmccray@theblade.com, 419-724-6065, or on Twitter @vanmccray.
Guidelines: Please keep your comments smart and civil. Don't attack other readers personally, and keep your language decent. Comments that violate these standards, or our privacy statement or visitor's agreement, are subject to being removed and commenters are subject to being banned. To post comments, you must be a registered user on toledoblade.com. To find out more, please visit the FAQ.