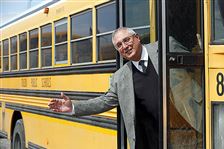 Brad Aemisegger, transportation director for Toledo Public Schools, has been named the Transportation Supervisor of the Year for the state of Ohio. 'It's definitely a big surprise,' he said.
THE BLADE/AMY E. VOIGT
Enlarge | Buy This Image
When Brad Aemisegger started as a bus driver for Toledo Public Schools nearly 30 years ago, he expected to only be in the transportation department for a few months.
He never expected to become transportation director for the entire district. So it shouldn't be a surprise he didn't expect to be named the top transportation director in the state by his peers. The Ohio Association for Pupil Transportation named Mr. Aemisegger its William Rice Award of Excellence winner last week at its annual conference and trade show.
The award is given by the student transportation trade association to the top Ohio transportation supervisor of the year.
"It's one of those things that you never expected to win," he said. "It's definitely a big surprise."
Transportation directors tend to be behind the scenes, and they don't go looking for praise. The big reward, Mr. Aemisegger said, was the impact bus drivers have on students. Getting kids to school safe, on time, and with a smile is what matters.
After teachers, bus drivers are the ones kids are most likely to remember when they graduate.
"It's the first person they see in the morning and the last person they see at the end of the day," he said.
Ron Mishka, foreman for TPS' vehicle maintenance service department, said the district had a strong inspection this year, with 93 percent of all buses given a completely clean report.
Mr. Aemisegger's department has taken a hit in recent years, as the district cut bus routes to reduce costs. But he said his staff still works its hardest, despite the cuts.
"Give us a project and we will get it done," he said.
Contact Nolan Rosenkrans at: nrosenkrans@theblade.com or 419-724-6086, or on Twitter @NolanRosenkrans.
Guidelines: Please keep your comments smart and civil. Don't attack other readers personally, and keep your language decent. Comments that violate these standards, or our privacy statement or visitor's agreement, are subject to being removed and commenters are subject to being banned. To post comments, you must be a registered user on toledoblade.com. To find out more, please visit the FAQ.