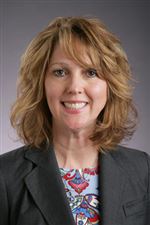 Rhonda Wingfield
University of Toledo Innovation Enterprises has named Rhonda Wingfield, director of budget and planning at the university, as the interim chief executive officer of UTIE.
Ms. Wingfield replaces Rick Stansley, a former UT Board of Trustees chairman who served UTIE, the university's economic-development arm, as CEO and board chairman until he abruptly resigned last month.
C. William Fall, also a former UT Board of Trustees chairman, was named last month as chairman of UTIE. At the time, UTIE announced it would split the roles of board chairman and CEO after an internal review of the organization's structure.
Ms. Wingfield will continue to serve in her current role and run UTIE until a permanent CEO is found, the university said in a statement. She has overseen UTIE's finances since about 2010, according to the university.
Ms. Wingfield said she likely will split her time 50-50 between UTIE and UT's budget and planning. One of her goals will be implementing further elements of UTIE's reorganization, including new committees that will oversee and assist companies in four industry categories, including renewable energy or information technology.
She also will focus on shepherding toward maturity companies in which UTIE has invested, and she expressed confidence in those companies.
"We have a lot of companies on the cusp of doing something great," Ms. Wingfield said.
In a statement, Mr. Fall praised Ms. Wingfield's work with UTIE and in the private sector working for start-up organizations.
"As we plan for UTIE's next five years, we are fortunate to have Rhonda's strategic mind and detailed financial knowledge during this interim period," Mr. Fall said.
UT President Dr. Lloyd Jacobs said he, Mr. Fall, and Charles Lehnert, the university's vice president of corporate affairs, considered five internal candidates for the CEO position. A search for a permanent replacement probably will start in the next month or so and take about six months, Dr. Jacobs said.
Dr. Jacobs called Ms. Wingfield someone with natural leadership potential who was familiar with UTIE's portfolio.
"She is a person of great integrity," he said.
University officials said Ms. Wingfield's compensation as UTIE's chief executive had not yet been finalized. Mr. Stansley had a $1,200-a-day salary at UT before leaving for what he said was an opportunity to buy a waste-removal operation in Flint, Mich.
Dr. Jacobs said he believed the decision on Ms. Wingfield was made Friday, the same day the university announced that Dr. Jacobs, who has led UT as president since 2006, will step down effective June 30, 2015. His contract was extended in 2011 to run through June 30, 2016, meaning he will leave about a year before his contract ends.
Dr. Jacobs shied away from commenting on the announcement. He'd previously told The Blade that he planned to stay until at least the end of his contract.
Asked what changed, Dr. Jacobs said, "At this all point I can say is that everything changes. Life changes, motives change, relationships change, and this is part of that overall change process."
Contact Nolan Rosenkrans at: nrosenkrans@theblade.com or 419-724-6086, or on Twitter @NolanRosenkrans.
Guidelines: Please keep your comments smart and civil. Don't attack other readers personally, and keep your language decent. Comments that violate these standards, or our privacy statement or visitor's agreement, are subject to being removed and commenters are subject to being banned. To post comments, you must be a registered user on toledoblade.com. To find out more, please visit the FAQ.