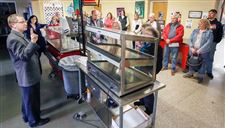 Paul Theriault of Plante Moran CRESA addresses a public tour at Bedford High School. The Michigan district is seeking a 4.37-mill levy on May 6 for building upgrades. Mr. Theriault demonstrated a lack of kitchen space and pointed out poor lighting and a below-code mechanical system at the school.
THE BLADE/JEREMY WADSWORTH
Enlarge | Buy This Image
TEMPERANCE — At almost $27 million, Bedford High School would be the biggest dollar beneficiary for improvements the Bedford Board of Education plans for the district's aging facilities if voters approve a tax increase next month.
Last week officials showed why during a tour of the building that houses 1,500 students.
The crumbling parking lots and sidewalks alone need a $1 million replacement, said Paul Theriault, the Bedford schools' project manager from Plante Moran CRESA.
Moreover, the 1964 building's obsolete windows waste energy and would be impossible for students to escape through in an emergency, Mr. Theriault said.
Other significant deficiencies include its old walk-in freezer, which requires metal shoring to support its collapsing ceiling, and an unsecure front entrance that allows visitors to enter unobserved by the front office.
These were but a few of the needed upgrades the tour highlighted. School supporters and officials have ramped up their campaign to persuade voters to approve the new 4.37-mill levy on May 6. School board members have gone door to door, and a pro-levy committee, Yes for Success, has distributed yard signs that have popped up at homes across the township.
The school board's plan is to raise $70.35 million for building upgrades and construction of a new elementary school at a location still to be chosen. The levy would service a 30-year bond issue for the campaign and cost the owner of a $175,000 home net new taxes of $178.40 per year, according to district figures.
Officials cite the net impact because the levy's total cost will be softened by this year's expiration of two existing school taxes: 1.82 mills used to pay off construction bonds for Monroe Road Elementary School, and a 0.5-mill sinking fund used for building repairs.
To help make their case, the board and Superintendent Mark Kleinhans have led public tours of the district's school buildings so taxpayers could see for themselves what officials have been talking about. The next tour is at 7 p.m. Tuesday at Monroe Road Elementary. About 30 people attended the high school tour.
At the high school, Mr. Theriault gave a brief history of how his firm's building-by-building assessment involved teachers, principals, and custodians. He demonstrated the kitchen's lack of space, and during the tour, he pointed out poor lighting and a below-code mechanical system.
Under the improvement plan, visitors entering the high school would be visible from the main office and have to be buzzed in. Other improvements would include new stadium restrooms and a renovated auditorium.
"Something needs to be done, definitely," said Jodi Reitz, a tour-taker who has two children in district schools. Her eighth-grade son, Josh, has complained that his modular classroom leaks when it rains, and the improvement plan would eliminate modular classrooms.
Terri Ormsby, the mother of two current students and two Bedford graduates, compared the district to a house suffering from deferred maintenance.
"You have to replace the carpet and the roof. It's the same thing here, only on a bigger scale," she said.
Sixth-grader Jordyn Reitz said, "It is distracting when I am trying to learn and water is dripping into a bucket next to me. I would love a drip-free school."
Contact Carl Ryan at: carlryan@theblade.com or 419-724-6095.
Guidelines: Please keep your comments smart and civil. Don't attack other readers personally, and keep your language decent. Comments that violate these standards, or our privacy statement or visitor's agreement, are subject to being removed and commenters are subject to being banned. To post comments, you must be a registered user on toledoblade.com. To find out more, please visit the FAQ.