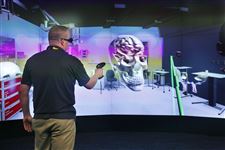 Jeremy Awbrey, clinical simulation and educational research associate, demonstrates use of a virtual room in the new three-story, 65,000-square-foot Interprofessional Immersive Simulation Center on the University of Toledo's Health Science Campus. The center was shown to the public on Tuesday.
THE BLADE/AMY E. VOIGT
Enlarge | Buy This Image
The new Interprofessional Immersive Simulation Center at the University of Toledo Medical Center has high-tech mannequins that breathe, blink, and bleed, and virtual trauma, operating, and intensive-care units to train students in the latest in patient simulator technology.
The $36 million center on the campus of the medical center, the former Medical College of Ohio, was introduced to the public Tuesday by UT officials who described it as the most advanced health-care training facility in the country.
PHOTO GALLERY: UTMC's new Immersive Simulation Center
Dr. Lloyd Jacobs, UT president, said the simulation center puts the college on the leading edge of integrating technology in the classroom. "This celebrates the most important trends in education — not only in health-care education, but in higher education in general," Dr. Jacobs said.
The 65,000-square-foot center is equipped with technology to enhance education and skills for students in medicine, nursing, pharmacy, therapy, and other health professions.
While many medical schools and teaching hospitals use simulation to train and educate students, the UTMC facility is the first to offer a five-sided virtual reality center with a curved interactive three-dimensional wall.
Pamela Boyers, executive director of the center, said the three levels of simulation technology offer learning and research opportunities in nonmedical fields, including the arts, humanities, natural sciences, and engineering.
"All of this amazing technology is not limited to studying medicine; modeling and simulation are used extensively in other industries such as oil and gas, manufacturing and aviation," she said.
The facility's Advanced Clinical Simulation Center has high-tech simulations of an operating room, trauma center, intensive care unit, labor and birthing suite, each with mannequins, operated by staff in a control room, that do just about anything a real patient does.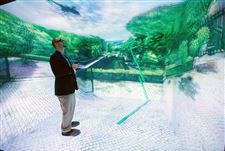 Dan Brainard, multimedia specialist at UT, shows how to use a room in the new simulation center. The center offers opportunities in the arts, humanities, natural sciences, and engineering as well as health.
UT officials said the simulation techniques and devices allow budding doctors, nurses, and other health-care providers to work seamlessly as members of a team, getting a feel for what it will be like to care for patients, alongside anesthesiologists, radiologists, and other health professionals.
The activities are captured by digital cameras in the ceilings that record everything the teams do and are later reviewed by clinicians and staff members with the students in debriefing rooms to learn what they could have done better.
"They come here to learn, they come here to practice, and they come here to be assessed on their skills so that they provide the safest patient care," said Dr. Boyers.
Dr. Ronald McGinnis, interim dean of UT's college of medicine and life sciences, said simulation has been used for several years to train medical and health-care students as well as provide continuing education to professionals in health careers.
"This center and the technology it contains is going to push that to a much higher level and make this a wonderful experience for all of our learners here," he said.
Hillary Rockey, a second-year medical student, said the simulation technology available at UTMC has given her hands-on experience in procedures such as suturing, intubating, and pelvic exams.
"I don't have to hurt a patient while I am learning to do it on them," she said. "They might feel uncomfortable having it done to them by me for the first time."
Contact Mark Reiter at: markreiter@theblade.com or 419-724-6199.
Guidelines: Please keep your comments smart and civil. Don't attack other readers personally, and keep your language decent. Comments that violate these standards, or our privacy statement or visitor's agreement, are subject to being removed and commenters are subject to being banned. To post comments, you must be a registered user on toledoblade.com. To find out more, please visit the FAQ.