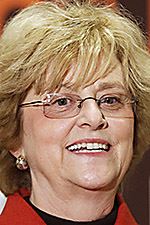 Mazey
THE BLADE/DAVE ZAPOTOSKY
Enlarge | Buy This Image
BOWLING GREEN — Looking ahead to a fiscal year that will feature a smaller budget and cost cuts virtually across the board, the Bowling Green State University board of trustees on Thursday unanimously approved a three-year extension of University President Mary Ellen Mazey's contract and gave her a 1 percent pay raise.
Ms. Mazey, who has served as BGSU's president since 2011, is slated to serve until June, 2019. Her salary, effective in September, will be $394,176, according to BGSU spokesman Dave Kielmeyer.
The board of trustees approved Ms. Mazey's contract extension and salary increase after meeting in executive session.
As BGSU faces declining state funding, the trustees also approved a $274 million budget for the university's main campus in the upcoming fiscal year, a roughly $6 million decrease from the 2014 fiscal year.
Sheri Stoll, BGSU's vice president for finance and administration and chief financial officer, cited decreasing state aid for the smaller budget. State support for the Bowling Green campus will amount to roughly $60.4 million in the 2015 fiscal year, compared to $90 million in 2010, Ms. Stoll told trustees.
Ms. Stoll attributed the decline in funding to recent changes in Ohio's formula for distributing money to state universities. That funding formula, as of the 2014 fiscal year, is based on course and degree-completion statistics rather than enrollment numbers.
Ms. Stoll said BGSU has seen a decline in enrollment and retention, but some peer institutions have increased both.
Much of the discussion at the trustees'‍ meeting focused on improving BGSU's retention rate and recruiting more students, including transfer and international students.
"We spent the last year wrestling with where to make adjustments in order to be able to present a balanced budget," Ms. Stoll said after the budget was approved.
"There'‍s almost no corner of the institution that won't have some impact."
Still, despite the smaller budget, tuition costs will not increase for in-state undergraduates. Annual tuition, general fees, and room and board costs for each full-time, in-state undergraduate will not change from last year under the approved budget. Those costs will total $18,834.
Avoiding a tuition increase is a priority, Ms. Stoll said, considering that about 40 percent of BGSU freshmen are first-generation college students, many of whom face financial constraints.
Tuition will go up 2.39 percent at the University of Toledo, but general fees will remain unchanged. The annual cost for in-state undergraduate students per year for tuition and general fees would increase from $9,054 to $9,242.
In addition to approving the budget and Ms. Mazey's contract extension, the trustees authorized the demolition of existing Greek housing on the Bowling Green campus.
The houses will be demolished this summer and will be replaced with new facilities, which are scheduled to open in the fall of 2016.
The trustees also approved amendments to BGSU's academic charter to make it consistent with the recent creation of its honors college.
Contact Madeline R.Conway at: madeline.r.conway@gmail.com, 419-724-6050, or on Twitter @MadelineRConway.
Guidelines: Please keep your comments smart and civil. Don't attack other readers personally, and keep your language decent. Comments that violate these standards, or our privacy statement or visitor's agreement, are subject to being removed and commenters are subject to being banned. To post comments, you must be a registered user on toledoblade.com. To find out more, please visit the FAQ.