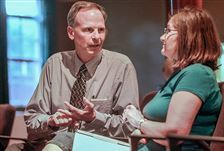 Maumee schools superintendent Greg Smith, left, talks to Maumee resident Vicki Holmes about the schools' direction during a forum Tuesday held at First Presbyterian Church in Maumee.
THE BLADE/ISAAC HALE
Enlarge | Buy This Image
Maumee school officials continue to study the feasibility of asking voters to approve a tax increase in November.
At a community forum last week, Superintendent Greg Smith explained that the district is projected to spend about $65,000 more in 2014-2015 than it takes in. In fiscal year 2016, spending will exceed income by $1,599,745.
Reserves will cover spending gaps until the end of the 2016-2017 year, when the district runs out of cash and faces a projected deficit of $1,698,867, according to district figures.
The superintendent said the board of education is considering asking for a combined millage that would be used for operating expenses and facility improvements needed in the high school and middle school, including Kazmaier Stadium, the tracks, baseball field, tennis courts, and high school gymnasium.
The district has a slew of other building needs as well, including the installation of air conditioning at Fairfield, Fort Miami, and Wayne Trail elementary schools at a cost of $750,000, and repairs of roofs and parking lots. It also needs new buses and technology.
Three options for the millage request are under scrutiny: 3.9 mills, which would cost the owner of a $100,000 home $136.50 annually; 4.9 mills ($171.50), and 5.9 mills ($206.50).
A cost-cutting campaign has been under way since the 2003-2004 school year, as the district's enrollment has shrunk, Mr. Smith said. The school system has shed 43 teachers, five administrators, and nine support staffers since then. In the 2014-2015 school year, it plans to cut two teachers and one support staffer. Over the past decade, enrollment has declined to 2,700 from 3,400.
The district also has realized savings by requiring employees to pay a larger share of their medical insurance premiums, which now stands at 15 percent — a number Mr. Smith acknowledged could be considered generous — and closing the Union Elementary School building.
In 2012-2013, the latest year for which data is available, the average teacher salary in Maumee was $50,244, according to the Ohio Department of Education. This compares with $50,361 for Perrysburg schools, $61,021 for the Ottawa Hills district, $48,222 in the Springfield Local Schools, $51,016 in Bowling Green, and $47,792 in Oregon.
Mr. Smith told the audience of about 15 people at First Presbyterian Church that the district provides busing for kindergarten through 12th-grade students who live a mile or more from school, but is not required by the state to transport high school students. He said the district could save $100,000 annually by adopting a two-mile limit to qualify for transportation.
Similarly, he said, cuts could be made to extracurricular programs that exceeded state minimum programs, such as music, art, family and consumer science, and business.
Contact Carl Ryan at: carlryan@theblade.com or 419-724-6095.
Guidelines: Please keep your comments smart and civil. Don't attack other readers personally, and keep your language decent. Comments that violate these standards, or our privacy statement or visitor's agreement, are subject to being removed and commenters are subject to being banned. To post comments, you must be a registered user on toledoblade.com. To find out more, please visit the FAQ.