The University of Toledo announced today the members of a presidential search committee that will be charged with finding a permanent replacement for Dr. Lloyd Jacobs.
Joseph H. Zerbey IV, board of trustees chairman and The Blade's president and general manager, will chair the search committee, and board Vice Chair Sharon Speyer will serve as vice chair of the committee.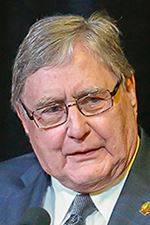 Jacobs
THE BLADE
Enlarge | Buy This Image
The university announced last month that Dr. Lloyd Jacobs would leave his position June 30, after previously announcing in March that he would step down effective June 30, 2015, a year before his contract ends.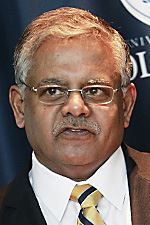 Naganathan
THE BLADE
Enlarge | Buy This Image
Nagi Naganathan, who was dean of UT'‍s College of Engineering, was named interim president of the university last month.
Committee members include:
Dave Morlock, executive vice president for finance and administration and chief executive officer of the UT Medical Center;
Karen Hoblet, president of the Faculty Senate and assistant professor of nursing;
Karen Bjorkman, dean of the College of Natural Sciences and Mathematics;
Johnnie Early, dean of the College of Pharmacy and Pharmaceutical Sciences;
Ali Fatemi, Distinguished University Professor in the Department of Mechanical, Industrial and Manufacturing Engineering;
Dr. Kris Brickman, professor and chair of the Department of Emergency Medicine;
Sonia Najjar, Hiss Endowed Professor of Diabetes Research in the Department of Pharmacology and Physiology;
Mike O'Brien, vice president and director of intercollegiate athletics;
Clayton Notestine, president of Student Government;
Connie Zouhary, vice chair of the UT Foundation Board and executive vice president of Buckenmeyer & King;
Bob Savage, Savage and Associates, former UT Board of Trustees member and a UT donor;
Susan Palmer, former UT Board of Trustees member and a UT donor;
George Chapman, former CEO of Health Care REIT, and a former Medical College of Ohio and UT Board of Trustees member;
Toledo Fire Department Chief Luis Santiago;
Greg Kopan, CEO of Beacon Financial, former president of the UT Foundation and a member of the UT real estate committee;
Richard McQuade, former federal district judge, former UT Board of Trustees member, a UT donor and a holder of two UT degrees;
Chuck Sullivan, retired CEO of Interstate Bakeries, former chair of the UT Foundation Board of Trustees, a UT donor who holds a UT honorary degree;
Calvin Lawshe, former UT vice president for student affairs and former City of Toledo administrator.
A search for Dr. Jacobs' permanent replacement is already under way, with search firm Witt/​Kieffer of Oak Brook, Ill., leading the effort.
Guidelines: Please keep your comments smart and civil. Don't attack other readers personally, and keep your language decent. Comments that violate these standards, or our privacy statement or visitor's agreement, are subject to being removed and commenters are subject to being banned. To post comments, you must be a registered user on toledoblade.com. To find out more, please visit the FAQ.