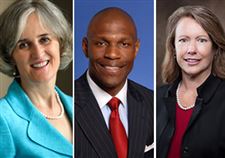 From left, Wheatly, Howard and Gaber.
Three finalists for the University of Toledo presidency have found support among various campus factions, as faculty and students rally behind the candidates and the board of trustees meets today to mull its decision.
Trustees will gather in a closed session at noon for the first of what could be multiple meetings to decide whom to hire following interviews and public forums with the three candidates. The visits gave the UT community a peek into the finalists' personalities and vision.
Proponents of Sharon Gaber, 51, point to experience she gained in her current role as University of Arkansas provost, the concrete examples she shared about initiatives she started, and her perceived ability to connect with faculty and students.
Michele Wheatly, 58, the West Virginia University provost from 2009 to 2014, was praised for her strong academics, research work, and familiarity with Ohio through her previous position as a dean at Wright State University near Dayton.
Supporters of Christopher Howard, 46, lauded the Hampden-Sydney College president's leadership style and student focus, and said they believe he would boost diversity among faculty and students.
Karen Hoblet, the faculty senate's president, said the majority of faculty believe all three candidates could do the job, but she believes most favor Ms. Wheatly or Ms. Gaber, who also won the endorsement of the Independent Collegian, the student newspaper.
"It is a matter of who brings the skills, knowledge, tools, and experience," said Ms. Hoblet, an associate professor in the college of nursing.
The group will not make a formal recommendation regarding the hiring decision, but plans to share general impressions with board chairman Joseph H. Zerbey IV, who is also The Blade's president and general manager, and vice chairman Sharon Speyer.
Faculty members compiled a long list of questions they hoped candidates would address during their visits. Topics included unresolved contract negotiations, the balance between tenure and nontenure track positions, and the university's ranking, libraries, and research.
Ms. Gaber and Ms. Wheatly addressed the items in prepared remarks or in response to questions during public forums, but Mr. Howard did not, Ms. Hoblet said.
The two women delivered "a planned message" and indicated it was their job to bring to the university the resources it needs, she said.
She described Mr. Howard as a wonderful speaker who exhibited strong ethics, but said many faculty viewed him as less experienced in dealing with the complexity of university issues. She noted that Hampden-Sydney, a private, all-male college with about 1,100-students, is much smaller than UT, which has 20,626 undergraduate, graduate, and professional students.
Other faculty members also expressed support for Ms. Gaber, whom geography Professor David Nemeth said acted on many issues at Arkansas that UT faces. She emphasized the importance of outreach and fund-raising, which he said should please trustees.
"We're all excited about hitting the road running and getting our work done. Under [Ms.] Gaber that appears possible. Under [Mr.] Howard it appears more of the same," he said.
Prior to his 2009 start at Hampden-Sydney, Mr. Howard worked as the University of Oklahoma's vice president for leadership and strategic initiatives, and he has pointed to that position as preparation for leading a large, public university.
Kimberlie Colson, an associate Spanish lecturer, rearranged her office hours schedule so she could attend the candidates' forums.
"I said, 'OK, I want to see who can give me the most bang for my buck within the first 3 minutes, and Gaber jumped out of there with her hammer, with her sickle, with her work gloves on, with her hard hat, which have already been greased and massaged and bent from years and years of work, showing us what she's done, and I said, 'Oh, this is it,' " Ms. Colson said.
Her top picks are Ms. Gaber and Mr. Howard.
Mr. Howard would make an excellent role model, while Ms. Gaber could connect with many facets of the university community.
"I want someone who can lift us up and take us into the next 10 years," Ms. Colson said.
Members of the Black Student Union were impressed by Mr. Howard and his leadership qualities, said the group's president Robert Delk, a senior from Cleveland.
"I think the most important thing students would want is to feel important, to feel on someone's agenda," Mr. Delk said. "He had a plan to interact with student leaders."
Diversity, and the desire to increase the number of minority students and faculty, was repeatedly brought up as a key issue at forums with all three candidates.
"They have a lot of stats, and they all showed increasing diversity," Mr. Delk said. "So that's kind of something that you just can't really judge until they get here, because anybody can say anything."
Of the three candidates, Patricia Hogue, assistant dean of diversity, student recruitment, and retention for the College of Medicine and Life Science, believes Mr. Howard could do the most to enhance diversity initiatives and appreciated that he seemed to understand medical campus issues.
Ms. Hogue, who also chairs the physician assistant studies department, wants to increase recruitment and retention of veterans and pointed to Mr. Howard's service in the Air Force.
"I just had a sense from [Mr.] Howard that his military training as well as being over at Hampden-Sydney College in Virginia probably gave him a little edge," she said.
Like others, however, Ms. Hogue expressed confidence in all three candidates.
Students who have followed the search process are most enthusiastic about Mr. Howard and Ms. Gaber, said student government President Clayton Notestine.
Mr. Howard won points for his straightforward demeanor, while Ms. Gaber told students she wanted to know what mattered to them.
"We want someone who is not only committed to interacting with the community but also really kind of gets a high from it," Mr. Notestine said.
Few students showed up at the candidate forums because they don't feel like they have a say in the hiring decision, Mr. Delk said.
The search for a new leader isn't a big conversation topic on campus, Nina Langford, a freshman from Elyria, Ohio, said as she ate lunch on a recent weekday in the student union.
"We don't really hear about the president much," she said.
One of her professors tried to show her communications class a video of a candidate forum, but the video wouldn't play.
Mr. Delk said many students don't know they can write a letter to trustees or give feedback.
"They just thought it was up to somebody in some room to make a decision," he said.
Contact Vanessa McCray at: vmccray@theblade.com or 419-724-6065, or on Twitter @vanmccray.
Guidelines: Please keep your comments smart and civil. Don't attack other readers personally, and keep your language decent. Comments that violate these standards, or our privacy statement or visitor's agreement, are subject to being removed and commenters are subject to being banned. To post comments, you must be a registered user on toledoblade.com. To find out more, please visit the FAQ.