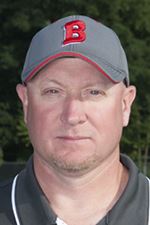 Wood
Back from a one-game suspension linked to the "inappropriate conduct" of a portion of his team during a preseason camp, Bedford head football coach Jeff Wood is with the team and ready to lead the Kicking Mules into their home opener today against Fenton.
In his eighth season, Wood (52-22) is the most successful football coach in school history, having guided the Mules to five straight playoff appearances between 2009-13, including 11-1 seasons in 2010 and 2013.
But these days he is just hoping an end will soon come to a scandal that has touched his 2015 squad.
Hindered by the suspensions of nine players — a disciplinary action related to their roles in the misconduct at the three-day camp at the Sauk Valley Resort in the Irish Hills of Brooklyn, Mich. — Bedford lost its season opener 41-27 to St. Francis de Sales last Friday at the Glass Bowl.
Although Wood said some players remain suspended from game action today, he declined to say how many would be out, or reveal any specifics regarding their actions at the camp. The coach said it would be "against the law" for him to disclose any disciplinary details related to students.
Further, Wood said he has not actually been told much about the results of an investigation by school administrators.
Michigan law enforcement authorities have acknowledged that the inappropriate conduct included indecent exposure, but no further specifics have been made public.
Michigan State Police are still investigating the case.
"I'm ready to move on," Wood said. "If everybody else lets us, I think we're going to heal properly."
Although no charges have been filed against any Bedford players, Wood acknowledged that rumors have swirled about whatever took place at the camp.
"Let them talk," Wood said. "It was bad enough for a couple people, but it was boys being boys and it went past that. Necessary steps had to be taken, and that's how the investigation was."
Wood said that no players have quit the team after the incident, and that the suspended players have been permitted to continue practicing with the team.
Housing at the camp location is described by Wood as ski lodges. His players stayed in three bunk houses, roughly 18 to 20 boys per house. Coaches stayed in another bunk house across a sidewalk, roughly 20 yards from the players' facilities.
Wood said that the coaches conducted regular checks of the bunk houses, and that there was a curfew at night. "It was 10 o'clock, lights out," Wood said. "Then we would walk it 20 to 30 minutes after to make sure it was quiet."
Whatever took place during the incident with the players, Wood said he and his staff were unaware.
"I have no idea of the full scope and story of this whole thing," he said. "I was told certain things, only things [administrators] wanted me to talk about and hear.
"But what happened inside those bunk houses for those 30 to 40 minutes when they had time between practice and meal, I have no idea. We walk the bunk houses as a staff. We randomly walk them. That's all I can give you."
Wood said he is not sure when the matter will be closed.
"It all depends on what the community and the people around want," Wood said. "How long they want to let this linger. We want to get back to business. Things happened. It depends on the people in the community whether they want to let it go or not. That's not my choice."
The issue was discussed during a Bedford Schools board of education meeting Thursday night.
Bedford parent Med Barr said his son and nephew were at the camp, and he disagreed with some parents who had previously called for leniency for the students who were disciplined. While he said the boys involved are good kids who should be forgiven, he said discipline was necessary for the students to learn important lessons.
"What happened there was not horseplay," he said. "It was not boys will be boys."
He called the students who witnessed the behavior the "real victims," who had their innocence stolen from them and now are made to feel they did something wrong by reporting the acts.
But another parent, Amy Nanney, said she didn't want to downplay the seriousness of the behavior, but she thought they should have been disciplined by the athletic authorities, not the school administration. She said her son will sit at home for five days instead of being in school as punishment for his part in the incident.
"I do have a good kid," she said. "He did get caught up in some crap that was ridiculous, and he knows what he did wrong."
Neither would offer specifics about the behavior that led to the discipline.
Wood may not have agreed with it, but understood and accepted his suspension.
"I broke no school policy and I was suspended for one game," Wood said. "I accept that suspension because I am the head football coach at Bedford. I don't have to like it, and I didn't. But that's the rule set by my administration."
Wood said he did not know if future Bedford football teams would continue the preseason camp.
"We're still making that decision," he said.
Staff writer Nolan Rosenkrans contributed to this report.
Contact Steve Junga at: sjunga@theblade.com, or 419-724-6461 or on Twitter@JungaBlade.
Guidelines: Please keep your comments smart and civil. Don't attack other readers personally, and keep your language decent. Comments that violate these standards, or our privacy statement or visitor's agreement, are subject to being removed and commenters are subject to being banned. To post comments, you must be a registered user on toledoblade.com. To find out more, please visit the FAQ.