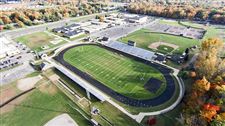 Funds are being raised to add restrooms and a locker room at Bedford Community Stadium. Previous work included bleachers, a press box, and concession stand.
TEMPERANCE — Bedford alumni are raising money to add amenities at Bedford Community Stadium.
Organizers want to add public restrooms and locker rooms at the stadium, which was built in 1997.
"It all started with the Bedford 50th anniversary celebration," said alumni association president Michelle Rudolph. "The most common request was to get the restrooms built. There was so much positive energy and enthusiasm from alumni members and the community that I decided I'm going to make it my goal as president to finish the third phase."
The stadium at Jackman and Dean roads hosts Bedford football games and track meets. It is also open year-round for community events and use by residents. The first and second phases of the project were paid for with donations from individuals, groups, and business. Those phases included construction of the bleachers, press box, and concession stand.
Plans for the third and final phase called for restrooms, two on the home side and one on the visitors' side. Those plans have been expanded to include construction of locker rooms.
If organizers collect enough donations, they plan to build an entrance plaza and field house, similar to Tam-O-Shanter in Sylvania.
"The larger ideas are great and something we can still have as a goal to work toward in the future, but that's going to be five to 10 years down the road," Mrs. Rudolph said. "What can we do now? What is most needed? That is the restrooms and the meeting room."
The alumni association hopes one restroom will be completed before the 2016 football season. The estimated cost is $250,000.
Work on the locker room isn't expected to begin until 2017 at the earliest. The restroom and locker room could be built simultaneously if the group collects enough money.
"The locker rooms could be pretty basic," said vice president Gene Stock. "What we're trying to do is raise people's awareness to the options we're looking at. We may get lucky and the magic person may step up."
"I've had people say, 'Gene, you're wrong. The school should be picking up the cost, not the alumni association.' I tell them the school doesn't have the money. Do you want to use Portajohns or try and raise some money? If you don't want to help, stay out of the way."
The idea for the stadium sprouted from concerned citizens, alumni, and Bedford school administrators. From those discussions the alumni association was formed in 1996 to benefit Bedford High School. The stadium became the first special project.
Phase 1 cost $2.5 million, with a $1 million loan being taken out through the school. The loan will be paid off in 2019.
Phase 2, which featured concession stands, cost $235,000 and was completed with donations raised by Bedford Band Boosters.
"This is a starting point of what we're going to work toward for the next couple years," Mrs. Rudolph said. "We're still in the process of updating our alumni contact database, we want to plan social events.
"We also want to focus on how we can help other clubs in the high school — art, theater, science, academic, technology, robotics. We're not just focused on the stadium or sports programs."
Contact Kyle Rowland at: krowland@theblade.com, 419-724-6282, or on Twitter @KyleRowland.
Guidelines: Please keep your comments smart and civil. Don't attack other readers personally, and keep your language decent. Comments that violate these standards, or our privacy statement or visitor's agreement, are subject to being removed and commenters are subject to being banned. To post comments, you must be a registered user on toledoblade.com. To find out more, please visit the FAQ.